SPORTS BUSINESS : ROCK 'N' ROLL MARATHON SERIES RAISES $219M FOR NONPROFITS
Racing Along: Competitor Group Events Help Charities Score
Monday, April 5, 2010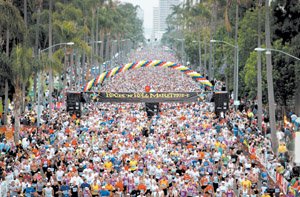 Peter Englehart and his team at Competitor Group Inc. are on a big roll, winning the race for market share of some of the healthiest and most affluent consumers — endurance athletes.
Since acquiring the popular Rock 'n' Roll Marathon in San Diego in 2008 for an undisclosed amount, CGI has become a national comprehensive media and event entertainment company dedicated to promoting the sports of running, cycling and triathlons. More than 250,000 will participate in CGI's Rock 'n' Roll Marathon Series this year, which hits 14 major markets including Seattle, Chicago, Denver, San Antonio and Las Vegas. The series of marathons and half marathons has changed the face of distance running, attracting an unprecedented number of female entrants, and by marketing charity participation.
More than 75,000 charity runners have raised $219 million for worthy causes and nonprofit organizations through the Rock 'n' Roll Marathon Series, according to the company, which has 184 employees, including 147 based at its Mira Mesa headquarters. Organizations that have benefited from the races include The Leukemia & Lymphoma Society and American Cancer Society Inc.
CGI now owns and operates 41 national events, including the Rock 'n' Roll Marathon Series, known for lining race routes with live bands and cheerleaders; Kids Rock Series; and Columbia Muddy Buddy Ride and Run Series. CGI, which says it has an 18 percent share of participants in the running space, plans to launch a sprint Triathlon Series in the coming months.
The company also produces multi-platform media offerings, including Competitor magazine, Triathlete Magazine, VeloNews and Inside Triathlon, and their respective digital properties on Competitor.com. CGI's four magazines have a combined monthly circulation of more than 800,000, while its online endurance community at competitor.com nets some 1.5 million monthly unique visitors and more than 25 million page views, the company reports.
Participant and spectator spending is estimated to exceed $36 million in economic impact during Rock 'n' Roll Marathon weekend in San Diego, according to Competitor's Web site. This year's event is scheduled for June 4 through 6.
Merging Media, Event Firms
"When we first decided to put together the Competitor Group, we saw a very fragmented marketplace for races," said Englehart, the CEO of CGI, which was formed in January 2008 through the merger of four media and event companies in the endurance sports space. "Most of the individuals on the events side lacked scale. So we felt if we could put together enough critical mass, we could have enough scale to distinguish ourselves."
Englehart points to CGI's combination of events, traditional print media and new digital media as an attractive lure for endurance athletes hungry for information and coverage.
"We want the consumer to look to us constantly," he said. "We want to be the one-source stop in endurance sports. We want to engage the consumer and be their go-to source for all things in their chosen area of leisure."
One of CGI's core competencies, Englehart says, is a robust national sales and marketing strategy. The company has national sales teams in San Diego, New York and Chicago. This strategy has not only attracted thousands of participants and fans, but also big-name sponsors such as Brooks Sports Inc., Nissan Motor Co. Ltd., Amway Global's Nutrilite vitamins, and MillerCoors LLC's MGD 64 brand.
"The demographics of the endurance participants are really attractive — they have high incomes, they're healthy and fit, and they tend to be leaders and trend setters and early adopters of new technology," said Englehart, who has also held executive positions at the Outdoor Life Network, ESPN and ABC Sports. "Our national platform and events give our sponsors the ability to touch these consumers through multiple channels."
Vista-based Zoot Sports (owned by K2 Sports of Seattle) is a regular advertiser for CGI's events and print and online publications. Zoot Sports has provided apparel and products for triathletes for the last 25 years. The company's CEO, Brian Enge, says CGI is the perfect venue for marketing to this core group of endurance athletes.
Gaining a Competitive Edge
"It's a highly competitive industry and there are a lot of brands who want to be in the industry, so you're always looking for an advantage of how to position your brand," Enge said. "Because of the Competitor Group's comprehensive business model, we're able to speak to each of these customers — runners, cyclists and triathletes — in a different way. CGI offers us the ability to reach specific customers through multiple media channels."
Andrea Siedsma is a freelance writer for the Business Journal.