SDNB Consents to OCC Deal
Monday, September 28, 2009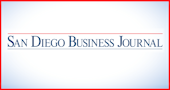 San Diego National Bank, one of the area's largest with $3.4 billion in assets, said Sept. 18 that it entered into a consent agreement with its primary regulator, the U.S. Office of the Comptroller of the Currency, to take steps to improve capital ratios.
As of June 30, SDNB was below the minimum capital level required to operate, and held 3.35 percent in total risk-based capital. To be considered adequately capitalized, a bank must have at least 8 percent of this measurement.
For the second quarter, SDNB reported a net loss of $19 million, bringing the net loss for the first half to $40.7 million. Last year, it lost $97 million, mainly due to a huge write-down on the value of the Fannie Mae and Freddie Mac stock it owned. Both entities were seized by the government last year, wiping out shareholders.
SDNB said the bank, and its parent firm, Illinois-based FBOP, "has been communicating frequently with the OCC and its other regulatory agencies on its recapitalization effort and is making excellent progress on a transaction to restore the bank to a well-capitalized status."
In a recent securities filing, FBOP said it would present a recapitalization plan to regulators by Sept. 30. SDNB's sister bank in Los Angeles, Cal National Bank, has also been operating under a consent agreement from the OCC since May.
Founded in 1981, SDNB was acquired by FBOP in 1996 for $26 million. It has 28 branches and 400 employees.
- - -
Mortgage Activity Rises: California credit unions originated 12,500 mortgages in the second quarter, including refinancings, which was the highest level for this type of lending since 2004, and almost 2,000 more than the first quarter's 10,700 mortgages, according to the California Credit Union League.
Total loans at credit unions in the state were $7.3 billion in the second quarter, up 3 percent from the first quarter. Capital levels also increased, with net worth rising 3.26 percent to bring the overall capital ratio to 9.08 percent.
Send any news about locally based financial institutions to Mike Allen via e-mail at mallen@sdbj.com .