Small Businesses Face Uphill Battle to Get Select Contracts
Monday, September 14, 2009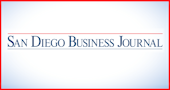 By MARK LARSON
Local defense contracting awards to San Diego area small businesses from Spawar, the Space and Naval Warfare Systems Command, continues at a brisk pace, despite the challenging economy.
The locally based Spawar develops and deploys advanced communications systems for the Navy, Marine Corps and allies. Its small-business program helps small businesses fulfill contracts with it.
From Oct. 1 of last year , the beginning of the federal fiscal year , through Aug. 31, Spawar awarded 542 contracts to San Diego-based small businesses, worth more than $333 million, says Spawar spokesman Steven Davis.
That contract value has remained steady during the past couple of years, he says.
Jim Lasswell, president and senior engineer with San Diego-based Indus Technology, says his company began defense contracting in 1997, six years after the company was founded by his late wife. Since then, Indus has grown to this year's projected sales of $27 million. The company, classified as a service disabled, veteran-owned small business, provides systems engineering, technical and program management for private industry and defense agencies including Spawar.
Lasswell says small-business defense contractors like Indus that are satisfactorily fulfilling defense contracts are in good shape these days, even in a down economy, since the federal defense budget continues to be well funded. But he sees the biggest roadblocks for small businesses trying to break into defense contracting are the banks. They've cut credit and aren't lending much to small businesses.
"The banking guys I've talked to don't seem to want to take on a lot of risk," says Lasswell. "When you're a little company trying to make payroll, damn that's tough."
Lasswell mentors small businesses trying to get into defense contracting, as small-business chairman for the local chapter of the National Defense Industrial Association. He sees a higher then usual amount of small, commercial businesses exploring defense contracting as a way to supplement slumping business. And there are local opportunities. He points to the more than $3 billion in construction improvements at Marine Corps Base Camp Pendleton in Oceanside. It has contracting opportunities, he says. And federally defense contracted construction work is going on in Guam at a value in excess of $12 billion. Just getting a small piece of either of those projects can be lucrative for a small business, Lasswell notes.
But turnover among existing small-business defense contractors is rare enough to make it hard for a first time contract bidder to win work. Contracts are awarded for three to five years, with options, and if the incumbent company is doing a satisfactory job, turnover opportunities may take some time.
"The merry-go-round (of contracts up for bid) goes around at a very slow pace," says Lasswell. "It really behooves a company to have staying power and watch carefully. They need to pick their targets carefully and not spend a lot of money chasing the wrong ones."
He says companies need to demonstrate "past performance," or experience in jobs similar to those being bid.
Still, it's not easy getting designated as a small-business subcontractor to a large prime federal defense contractor, even if you've already won defense contracts.
Just ask Bernard Tatum.
For the past six years, he has run a Rancho Bernardo-based military contracting business, Briatech.
Defense Contracts Won
Tatum worked for nearly 30 years in executive management for the former TRW, a military contractor, and for telecom industries building impact-resistant equipment for the military. He attributes that background and knowledge to helping him win two defense contracts, one worth $1 million, which ended in December, and the other worth $2.5 million, which ends in April of next year. He became profitable last year after five years in business and expects to make a 20 percent profit on $2 million in revenue this year and next. He and his wife are the core of the business, and work is contracted out to third parties as needed to manage costs.
But Tatum's efforts to grow his company as a military subcontractor have been stymied.
He wants to buy a building for a machine shop. But to do that he'd need a seven-year loan of between $500,000 and $750,000. And his efforts to get a bank loan have been turned back. Traditional Small Business Administration avenues have become more challenging.
"It's almost impossible to get loans from traditional SBA sources (bank loans)," says Tatum. "They're pretty much loaning now only to people that don't need it. In many cases it's crippling small business, stifling growth. It's an uphill battle getting a business started."
Tatum says he had a credit line reduced, and he had to go to the bank's vice president to have it restored. Tatum says the banker claims the move was the result of new formulas that will cut existing credit lines, not because of a problem with the client, but to protect bank profits.
Getting funds from angel lenders isn't easy either, he's found. "They want to see you at $5 million in revenue before talking," says Tatum. "They want 25 percent liquidity of whatever you're trying to borrow. That means giving up liens on everything."
Then there's the task of getting a defense contract. Tatum qualifies as a service-disabled, veteran-owned small business. Three percent of defense contracts are supposed to go to disabled veteran business owners, says Tatum, but his research shows that only "one-half of 1 percent" is actually going to the category.
And then there's the hurdle of getting to be a small-business subprime contractor to a prime defense contractor. Most subprimes have been in place with the lead contractor for years. So displacing those already on board isn't something that happens every day.
"There's a lot of politics," says Tatum.
Mark Larson is a freelance writer for the Business Journal.