BofI Holding Enjoys Dramatic Uptick in Quarterly Income
Monday, September 14, 2009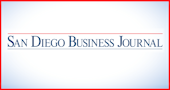 BofI Holding, parent of Bank of Internet USA, reported recently fourth quarter 2009 profits rose 102 percent, and its full year profit of $7.1 million was 70 percent above what it did in the prior year.
It would have been much better if not for the savings bank's investment in Fannie Mae stock.
After the federal government seized both Fannie and Freddie Mac, institutions that hold the highest amount of mortgages in the nation, in September, the preferred stock the bank owned was sold for an after-tax loss of $4.7 million.
CEO Greg Garrabrants acknowledges the mistake, but says at the time it purchased shares, Fannie Mae was healthy, and it was the only equity investment allowed to banks.
That may have been one of the few mistakes BofI made in recent years, judging from its financial results.
The single-office savings bank that does all its business online, and with $1.3 billion in assets, recorded its eighth straight year of increased profit, and saw its highest annual net interest margin.
The bank's net interest margin, or average profit on its loans and investments less expenses on deposits, increased to 3.04 percent for the full year, compared to 1.72 percent in 2008.
Garrabrants said his bank has benefited from conservative underwriting standards and opportune investments in residential mortgages and mortgage-backed securities sold by other lenders that are "under pressure."
Many of the selling banks are those dealing with excess problem loans, which forced setting aside higher reserves, and which in turn, hurt capital levels.
For the most recent fiscal year, BofI purchased $57 million in mortgages; in the prior year, it purchased $20l million.
The bank also originated about $117 million in mortgages, and reported holding $615.5 million in loans.
Garrabrants said many prime mortgages from larger banks were purchased at discounted prices as troubled lenders were forced to raise cash and shrink in size to boost capital ratios.
"It's a lot tougher to find (such loans) these days," he says. "There's a lot of bad stuff out there."
Still, there's not much bad stuff in BofI's portfolio. As of June 30, it nonperforming ratio was a measly 0.65 percent of assets, or $8.5 million. That's up from 0.39 percent in problem assets at the end of the prior fiscal year, but it's a ratio most banks would take in a heartbeat.
Of the problems, $2.8 million are loans; $5.4 million is real-estate owned, and $300,000 is repossessed recreational vehicles.
Garrabrants says the bank is being overly conservative and should recoup more than what's owed on the troubled assets.
In other proof of BofI's conservative strategy, he declined to apply for help through the government's Troubled Asset Relief Program. He said he doesn't need the money.
"The ever-changing rules (of TARP) and all the political pressure that's been applied to TARP recipients validate the bank's decision not to participate in the program," Garrabrants said.
BofI's results sent the stock, traded under BOFI on Nasdaq, rising to a new high of $8.90, but the price fell a few days later and closed Sept. 4 at $8.50. Though BOFI is up 34 percent over the past year, it's still below the bank's book value price of $9.79.
• • •
State Lenders Get Tough Report Card: The state's Department of Financial Institutions released its second quarter report earlier this month, and it isn't pretty.
As of the end of June, the 215 commercial banks regulated by the DFI reported holding $7 billion in problem assets, or more than double the amount of the prior June. Other real estate-owned more than tripled to $1.1 billion, and loan loss provisions increased 154 percent to $3 billion.
As expected given those numbers, net losses were way up, to just below $1 billion compared to $407 million in the second quarter of 2008.
State-regulated credit unions also posted dismal results, with 181 credit unions reporting an aggregate net loss of $348.5 million, more than double the $133 million in net losses in the prior year's quarter.
Delinquencies doubled to $1 billion, while the average net worth ratio, essentially the credit union's capital base, declined to 8.84 percent from 10.12 percent in the prior year's second quarter.
• • •
Small Change: Pacific Coast National Bank, based in San Clemente and with a single office in Encinitas, agreed to a consent order from the Office of the Comptroller of the Currency that requires it to take a number of actions, including increasing the bank's capital levels. The bank received $4.1 million in federal funds earlier this year.
Send news about locally based financial institutions to Mike Allen at mallen@sdbj.com.