Amylin, Partner to Develop New Diabetes Drug
Friday, September 11, 2009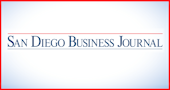 San Diego-based drug maker Amylin Pharmaceuticals said Sept. 10 it will partner with India's largest biotech to develop a new diabetes drug.
Terms of the collaboration were not disclosed.
Amylin said it would contribute technology capable of combining two hormones into a single drug, while Bangalore-based Biocon will manufacture the product and offer development expertise. The companies will share development costs, they said.
Biocon struck a deal with San Diego's Life Technologies, formerly Invitrogen, in 2007 to make and market pharmaceutical-grade insulin. Biocon claims to be the world's fourth largest producer of recombinant human insulin.
Amylin shares trade on the Nasdaq as AMLN. At midday Sept. 11 shares stood at $12.58. Over 52 weeks shares traded between $5.50 and $23.01.
, Heather Chambers