Hotel Chain's Bankruptcy Filing Extends Industry's Woes
Monday, September 7, 2009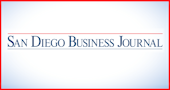 Extended Stay Hotels' recent bankruptcy filing has cut a swath through California's lodging industry, adding 78 properties to an already bulging list of loan defaults.
The South Carolina-based, limited-service chain, which caters to business travelers, filed for Chapter 11 bankruptcy protection in mid-June. It owns 684 hotels in the U.S. and Canada, including such brands as Extended Stay Deluxe, Extended Stay America Efficiency Studios and Homestead Studio Suites.
Statewide, there were 240 hotels in default and 40 that had been foreclosed on as of Sept. 1, up from 174 in default and 32 foreclosures July 1, according to a regional hotel broker. In San Diego County, there were 24 in default as of Sept. 1, up from 13 in July, while foreclosures stayed flat at three.
"Many view defaults in commercial properties nationwide, including hotels, as a ticking time bomb," said Alan Reay, president of Irvine-based Atlas Hospitality Group. "I'd say it's going to be like subprime lending on steroids."
According to Stan Kozlowski, senior vice president of Los Angeles-based commercial real estate services firm CB Richard Ellis, "Anything that was bought at the height of the market was underwritten at levels that are not the underwriting levels that exist in this market."
He added: "Lenders were more aggressive during that period and the fundamentals of the hospitality industry have changed dramatically as well."
Defaults, Foreclosures
Some of the local hotels in default are: the 316-room Mission Plaza Hotel and Suites on Sports Arena Boulevard; 166-room Extended Stay America in Hotel Circle; 141-room Homestead Studio Suites in Mission Valley; 135-room Homestead Studio Suites in Sorrento Mesa; 107-room Extended Stay America in Kearny Mesa; 106-room Extended Stay America in Carlsbad; and 101-room Extended Stay America in Oceanside.
The 46-room Pacific Coast Inn in Pacific Beach; 20-room El Camino Motel in Imperial Beach; and 11-room Harbor House Inn in downtown San Diego were foreclosed on, Reay said.
One of the most notable properties in default is the 258-room W San Diego hotel. In June, Sunstone Hotel Investors, a San Clemente-based real estate investment trust, threw in the towel on the high-profile property and said it stopped making loan payments.
Starwood Hotels manages the W, which is still open. Sunstone owns 43 hotels, including six others in San Diego. An executive of the company said it was not in default on any of those loans, but added that it has been in discussions with lenders to renegotiate the terms of some of them.
Reay said he couldn't divulge the complete list of hotels in default because some names are being kept confidential by lenders. He also said this is only the first wave of hotel defaults.
"I have heard that there is $1.3 trillion in commercial loans that will come due in the next three or four years," he said. "It's not just hotels. It's also major shopping centers and big office buildings, but hotels will lead the way."
Reay said that while there have been relatively few foreclosures, the majority of defaults are fairly recent. It often takes four months from the time a borrower receives a notice of default before a lender can proceed with a foreclosure, yet some properties have languished on the default list much longer.
No Guarantees
Many property acquisitions, such as the W San Diego, were financed with commercial mortgage backed securities, or CMBS, loans. Unlike traditional loans, CMBS loans required no guarantees.
"If a CMBS loan goes into default, the bondholder has very little leverage and it delays the process," Reay said. "The situation of offering the keys back is becoming epidemic."
CMBS loans are bundled and sold to bondholders or trusts, which are handled by special servicers.
That tends to complicate matters since the servicers "have never been in this situation before and they're basically having to figure it out as they go, including getting appraisals on properties," he said.
The problem CMBS trusts and bondholders now face is trying to resell properties without deeply discounting them.
Declining Values
Since travel has dropped dramatically in the last 12 months, hotels have seen double-digit declines in revenue percentages, and so have their values, since they're based on operating income.
Financial institutions have more flexibility in reselling or refinancing lodging properties, however they're currently sticking to prices that are above what the market will allow, Reay said.
Does that mean we're going to see hotels boarded up?
Gary H. London, president of The London Group Realty Advisors, which provides real estate consulting and economic analysis, said he doesn't think so.
"How the problem will play out is that the current property owners will be substituted by new players who will have more skin in the game," London said, referring to larger down payments.
Some lenders may be out of the game, but foreign investors, private sources and vulture funds are ready to step up to the plate. There just aren't enough deals to be had, he added.