Fast-Growing Stone Brewing Adds a Distribution Warehouse
Monday, September 7, 2009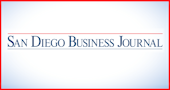 Greg Koch, co-founder and CEO of Stone Brewing, rarely misses an opportunity to bash his publicly traded competitors, referring to their beverages as "fizzy yellow stuff."
Thus, when asked the reason behind Stone's recent expansion, marked by the purchase of a $6.2 million, 60,000-square-foot warehouse for distribution, he said it was because sales of craft brews, including his, are increasing while sales of mainstream beers are declining.
Stone Brewing plans to add two fermenting vats at its headquarters in Escondido for a total of 12. That will squeeze out the space needed for distributing its brews and those of 17 other craft brewers, including local and imported brands.
In the newly acquired Nordahl Business Park warehouse on nearby Executive Place, Stone will have 25,000 square feet of cold-storage space as opposed to 8,000 square feet in the main plant.
Founded in 1996, Stone Brewing expanded from a small facility in San Marcos to the headquarters offices it built for $13.5 million in late 2005. That tab also included the cost of equipment and a restaurant, Stone Brewing World Bistro & Gardens, which opened a year later.
Koch said he and his partner, Steve Wagner, prefer to buy rather than lease because "it's a good business decision."
"When you own your own property you are able to control your circumstances and it has tax advantages," Koch said.
The new vats will give Stone a fermenting capacity of 120,000 barrels to meet growing demand.
Anticipated production for 2009 is 100,000 barrels, up from 83,000 barrels last year. Production in the first half of this year was up 24 percent compared with the first six months of 2008, he added. Stone Brewing's lines, including Stone Pale Ale and Arrogant Bastard Ale, are distributed in 35 states. "As of September last year we added four states," he said.
Revenues, including the restaurant, stood at $36.7 million in 2008, he said. That was a 30 percent increase from the year before for the brewery and a 37 percent hike for the restaurant.
Stone was founded in 1996 with a war chest of $500,000.
According to beertown.org, craft beer makers sold an estimated 4.2 million barrels of beer during the first half of this year, up from 4 million barrels in the first half of 2008.
Joe Shemirani, president of Barons Marketplace, a small specialty grocery chain that carries mostly natural foods, said he has seen a growing interest in craft beers.
"People are looking to try different styles of beer," he said. "More people stop by to see what's new in the way of beer and what varieties we're carrying now."