REGULATORS SHOPPING FBOP AMID BELOW-STANDARD CAPITAL RATIOS
FDIC Seeks Bids for San Diego National Bank's Parent Company
Monday, October 26, 2009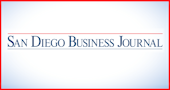 Federal bank regulators were reviewing bid packages last week for Chicago's FBOP Corp., including subsidiary San Diego National Bank, in what may be the second-largest bank to fail this year, according to several local bank sources.
Neither SDNB nor the Federal Deposit Insurance Corp. would confirm that FBOP, worth an estimated $18 billion, is being shopped by regulators to other banks, but local bankers say the transaction is imminent.
"Clearly, with the below-standard capital ratios at San Diego National and California National Bank (another FBOP subsidiary bank in Los Angeles) the regulators don't have a lot of choice. The regulations mandate it," said Larry Hartwig, president of California Community Bank in Escondido.
Mike Perry, president of San Diego Trust Bank, said the evidence is piling up that federal regulators have decided not to extend a Sept. 30 deadline for FBOP to increase its capital levels, and will soon seize the company's eight banks in California, Arizona, Illinois and Texas.
"Certainly, when the FDIC is requesting bids on an institution, that is a clear indication they are going to take some form of action," Perry said.
Large Local Lender
With about $3.4 billion in total assets, SDNB has 28 branches in the county and about 400 employees. It's the fifth-largest, locally based lender in the county.
Last month, SDNB agreed to a consent order with its primary regulator, the Comptroller of the Currency, to increase its capital ratios, or core reserves, to above minimum standards.
FBOP, which is entirely owned by Chicago billionaire Michael Kelly, also was operating under a similar order from the Federal Reserve Bank of Chicago to do the same thing by the end of September. In securities filings, FBOP and its subsidiary banks stated it was making progress on a transaction that would result in all its banks exceeding regulatory capital standards by Sept. 30.
The bank was attempting to raise about $500 million in new equity, according to several published reports.
FBOP reported losing $937 million in 2008, mainly caused by having to write down the value of stock it owned in two federal government sponsored entities, Fannie Mae and Freddie Mac. The two largest purchasers of mortgages in the nation were seized by the government in September 2008, rendering that investment worthless.
Founded in 1981, SDNB took a major earnings hit last year because of securities losses in mortgage companies. In 2008, SDNB lost nearly $100 million. For the first six months of 2009, the bank lost $40.7 million.
At the end of June, SDNB reported holding $123 million in nonperforming loans and foreclosed real estate. That meant 3.62 percent of its portfolio was nonperforming or not paying all interest and principle, requiring the bank to set aside higher reserves.
During the first half of 2009, SDNB increased its reserve balance from $35.7 million to $89.5 million as of June 30 to cover actual and potential loan losses.
Those actions severely depleted SDNB's capital ratios, causing them to fall below minimum levels required by regulators.
As of June 30, SDNB reported Tier 1 leverage or core capital of 1.69 percent, and total risk-based capital of 3.35 percent. The minimum ratios to be adequately capitalized for those measurements are 4 percent and 8 percent respectively.
The bank did not respond to a request for comment from SDNB President Robert Horsman.
Likely Bidder
Several banking sources say the lead bidder for FBOP Corp is U.S. Bancorp. The Minneapolis-based bank has acquired some $16 billion in assets owned by failed banks over the past year, including the purchase of two big savings banks in Southern California, Downey Savings, with more than $9 billion in assets, and PFF Bank & Trust, with some $2.4 billion in assets.
U.S. Bancorp is among the nation's largest lenders and has $263 billion in total assets and some 2,850 branches in 24 states, mostly in the Midwest and East. Included in that figure are 58 branches in San Diego County.
Rick Levenson, president of Western Financial Corp., a San Diego investment bank specializing in community banks, said U.S. Bancorp, which has 692 employees in the county, would be a natural fit for taking over SDNB.
"This is a nice franchise for somebody like U.S. Bancorp, and allows them to pick up a good branch structure," he said.
The fact that the FDIC had already contacted potential buyers for FBOP was ample evidence the nation's bank insurer was no longer extending a deadline to get a deal done, bankers said.
John Eggemeyer, chairman of Castle Creek Capital in Rancho Santa Fe and of PacWest Bancorp in San Diego, was well-acquainted with the FDIC's sale process of failed institutions. PacWest's Pacific Western Bank made two failed bank purchases this year.