ViaSat to Acquire WildBlue for $568M
Thursday, October 1, 2009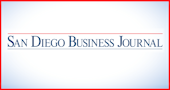 Carlsbad-based ViaSat, a developer of wireless and satellite communications systems, said Oct. 1 that it has acquired Colorado-based WildBlue Communications.
ViaSat said it will pay $568 million in cash and stock for WildBlue, which provides high-speed Internet access to 400,000 customers, primarily in rural areas.
The deal paves the way for an expansion of WildBlue's broadband service using ViaSat technology, including a ViaSat-1 satellite scheduled to launch in 2011, ViaSat said.
The two companies aim to reduce the long-term costs of expanding Internet access via satellite. The acquisition is also intended to circumvent the high start-up costs and technical challenges that have made it difficult for satellites to compete with cable- and phone-based competitors on price and quality.
As part of the acquisition, ViaSat said that Liberty Media , which owns a 37 percent stake in WildBlue , will add a representative to ViaSat's board. Intelsat, Tennenbaum Capital Partners, the National Rural Telecommunications Cooperative and Kleiner Perkins Caufield & Byers will also become shareholders.
, Richard Gincel