CONSTRUCTION: FINDING FAVORABLE FINANCING OPTIONS A CHALLENGE FOR DEVELOPERS
Tough Market Conditions Put Apartment Projects on Hold
Monday, November 23, 2009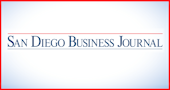 A handful of apartment projects are planned for downtown San Diego's East Village, as developers see it as a way to plug into the area's strong market for rental units.
While one project is close to completion, tough market conditions for construction have others in a holding pattern until a more robust economy — and favorable financing — allows them to go forward.
Slated to open in mid-June, Strata is a 22-story luxury apartment complex at the southwest corner of 10th Avenue and Market Street.
The developer, The Hanover Co. of Houston, has already built Current, a luxury apartment in the neighborhood on Union Street. Completed in October 2007, it has 144 units.
Strata is expected to have 163 units, with one- and two-bedroom options, and 6,400 square feet on the first floor for future retail and commercial tenants.
"We have larger units that cater to more of the high-end condo buyer," said Hanover spokesman Rick Stinson. Units feature travertine floors, granite countertops and stainless steel appliances.
Renters sought for Strata are single urban professionals, and empty nesters moving out of the suburbs to end their daily commuting.
San Diego's rental market has cooled off from a couple of years ago, but there aren't a lot of new apartment options available. There hasn't been any new apartment construction in the last 18 months, he says.
High Hopes
He expects that to build market demand for apartments during the next 12 to 18 months.
"We believe San Diego will come out of the down cycle sooner than the rest of California," said Stinson.
Units will rent for $2,000 a month and up, he says. A marketing campaign touting one-, two- and three-bedroom units for lease is set to begin in January.
Hanover wants to attract a high-end restaurant, and an upscale retail outlet on the ground floor of the building.
Foster West Apartments, a development planned by downtown San Diego-based OliverMcMillan at 11th and G streets, will be eight stories high and contain 118 to 120 apartment units. The ground floor, like others in the neighborhood, will offer 12,000 square feet of retail space. Studios and one- through three-bedroom units will be offered, with rents to be determined. The project is waiting out a challenging lending climate before it gets to the construction phase.
Jim Reynolds, senior vice president with OM, says Foster West will have small but high-quality units aimed at young professionals. The company has built three new apartment buildings in the past five years. They are Lofts at 655 Sixth, Lofts at 677 Seventh, and Lofts at 707 Tenth.
"We built really condo-grade apartments that are very nice," he said, noting that the luxury apartment niche has proven to be popular. "All of them are full."
Good Reputation
OliverMcMillan is well aware that San Diego is known nationally for its strong apartment renting population. These days, occupancy levels are at about 95 percent.
"We think this is a good market," said Reynolds. "The bad news is we won't be able to build now."
The lending climate isn't good these days for apartment construction, and may not be for years. And by the time the apartment is built, rents will be higher than those calculated for today's market.
But because of high land prices, barriers to developers building more downtown apartment buildings are high. So those already in with new or planned properties may not face much future competition.
Ninth and Broadway is an affordable apartment complex planned by the nonprofit Bridge Housing Corp.
The Ninth and Broadway complex is expected to take two years to build. Rents will be based on local median income.
Project manager Betsy Wilson says the 16-story building will offer 248 studio and one-bedroom units for tenants and two manager units. It will offer 5,000 square feet of storefront space along Broadway.
The project awaits a December consideration by the city's redevelopment agency for final approvals.
"Once we get entitlements, our focus will be to secure financing," said Wilson. "We need a variety of sources." They include state and federal financing sources.
"Once that is in place, we will be able to start construction," Wilson added. "Our goal is to start in the next couple of years."
Mark Larson is a freelance writer for the Business Journal.