DEFENSE: U.S. ARMY CONTRACT WORTH UP TO $468M
Cubic Prepares Warriors for Action
Monday, November 23, 2009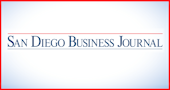 You think you've had a challenging month?
Bill David has seen challenging months.
David is an executive with San Diego-based Cubic Corp., in charge of producing war games. He gives U.S. Army units their final training before they face real combat in Iraq and Afghanistan.
David works for his Army customer at Fort Polk in Louisiana. Units come to the Joint Readiness Training Center to sample life in more than a dozen mock villages.
At least, that's the way it usually works.
During the surge of 2007, the Army sped up deployment. A unit from Fort Lewis, Wash., became so pressed for time that it had to skip the trip to Louisiana. The Army asked David to bring his war games to the Seattle area.
So, on short notice, he took his show on the road. His team packed its gear in three 747 aircraft and 25 big-rigs. They flew 800 role players, trainers and support staff to Fort Lewis and put the unit through its training. In time, the unit deployed.
It wouldn't have been such a grueling task if there had not been other pressing business on David's desk. He was drawing up Cubic's proposal for 10 more years of war games support.
In the end, Cubic got the job — a one-year contract with nine yearlong options that could be worth as much as $468 million by 2017. One of its most recent deals was a $40 million Army contract modification to train U.S. soldiers to be military advisers.
A Cast Of Thousands
In many San Diegans' minds, Cubic is synonymous with electronic gear. The publicly traded corporation makes fare collection equipment for big-city transit systems, as well as high-tech training aids for war games.
But it also offers services through its Cubic Applications unit.
David likens his work to that of a movie production company.
The brigade receiving the training is a star. The directors are the 400 trainers, which accompany leaders at every level of the unit. They stop the action, review, and offer criticism and pointers.
Cubic provides everything else. "We write scripts. We have props and wardrobe. We make it real," David said.
Like a Hollywood epic, there's a cast of thousands, all with their assigned roles.
Simulations might involve government leaders at various levels, militant groups, religious minority groups and members of al-Qaida. There are also criminal groups and journalists thrown into the mix.
Louisiana locals have taken jobs as role players. In the years since they have been playing denizens of Iraq and Afghanistan, the Cajuns have built up an enviable vocabulary of Arabic and Pashto phrases.
No one speaks English during the training, says David. "If you bump up against the district commissioner, you'd better have your interpreter with you," he said.
Cubic goes to a subcontractor, Seattle-based Mobius, for authentic Iraqi and Afghan leaders. Mobius, a veteran-owned small business, recruits role players who have held high-ranking jobs with the military or police forces in Iraq or Afghanistan.
A big part of Mobius' job is validating new employees' credentials, says Mobius principal Jeff Balentine — though sometimes the role players already have U.S. security clearances.
Balentine, who worked for Cubic before going out on his own, spent his time in the Army as a Russian linguist. He says he can still use his Russian language skills with the Afghans.
Cubic has 1,640 employees at Fort Polk. When exercises are at their peak and Cubic's four subcontractors are providing support, the number can swell to 2,000.
For David, the Cubic program manager, work is about balance.
He has to make sure he gives the Pentagon what it has specified in its contract, while adhering to all applicable laws and running his corner of Cubic's business profitably.
Often the Army specifies changes to the training. Usually they're small, but they're not insignificant. Key changes reflect new ways that improvised explosive devices, or IEDs, are made and delivered.
"The scenarios of Iraq and Afghanistan are very, very realistic. The Army works very hard to keep things current," David said.
He also says he has an informal job. His years in the Army have given him a sense of what sort of training works, and what doesn't. He makes himself available if the customer wants a second opinion.
However, he knows he's the vendor and needs to approach the situation in a certain way. "I try not to be overbearing," said the retired general.
Adviser Training
Cubic Applications' newest contract is smaller and more specialized than the 2007 deal.
In late September, the Pentagon awarded Cubic a contract modification to train military advisers. These are senior officers and enlisted soldiers who will join units of the Iraqi and Afghan national armies. They will train them in a variety of disciplines, from military operations to personnel management, logistics and payroll.
The contract is worth $40 million. Work will be done at Fort Polk, as well as Fort Benning and Fort Stewart in Georgia, and Fort Drum in New York.
Separately, Cubic helps plan and execute war games at the National Training Center in Fort Irwin, in California's Mojave Desert. Massachusetts-based Raytheon Co. is prime contractor for the war games at Fort Irwin.
Cubic also does similar work with the Marines.
Cubic has yet to release its financial results from fiscal 2009. It reported revenue of $881 million in fiscal 2008.
Cubic stock trades on the New York Stock Exchange as CUB, and as of Nov. 18, its 52-week range was $19.81 to $42.24.