FINANCE: MORE IS BETTER, BANK CONSIDERS ADDITIONAL ACQUISITIONS
U.S. Bank Moves Decisively in Buyer's Market, Plans to Expand
Monday, November 16, 2009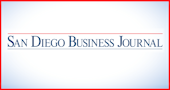 U.S. Bank may not be through buying yet.
The Minneapolis-based bank, the sixth largest in the nation with $265 billion in assets, took control this month of about $18 billion in new assets formerly owned by FBOP Corp., including San Diego National Bank's $3.4 billion in assets.
Before swallowing FBOP's nine banks in four states, USB previously purchased some $16 billion in assets from failed banks.
That sounds fairly aggressive, but USB Vice Chairman Rick Hartnack prefers to characterize the strategy as "careful and cautious."
"We've been a careful company and we're in a position to take advantage of this situation because we're cautious and careful and we treat the shareholders' money like it's our own," Hartnack said.
Expansion Plans
Asked if the bank would be taking a breather or continuing to expand, Hartnack said the expansion "is definitely ongoing."
While the bank has accomplished a great deal in California, the state has such a large economy, that there are still some holes to fill, Hartnack said.
Several areas where the bank is looking to expand its branch network are the Central Valley and the Central Coast north of Ventura, as well as the Bay Area and Sacramento, he said.
"And we still have holes in San Diego," he said.
The SDNB buy should go a long way to filling some of the holes. U.S. Bank got 28 local branches through the FBOP deal, bringing its total in the county to 88. That puts it just behind Wells Fargo's 101 branches in the market.
Of course, USB has no intention of keeping open all of those branches. Where there's overlap, the acquired branches will likely be closed and turned into pizza shops or drugstores.
Some Downsizing
Hartnack couldn't say how many branches would be closed, but asserted that most of the customer service staff would be retained, as well as a good portion of the managers. SDNB had about 400 employees.
For those employees who may not be retained, Hartnack said the bank would provide them with the first shot at openings, first in the state and then the rest of the nation.
Employees who may be laid off would qualify for some type of severance based on their salary and years of service, he said, declining to be specific.
Hartnack also declined to say whether the bank would retain SDNB's top executives, including CEO Robert Horsman.
At least for those customers who took advantage of above average deposit rates offered at SDNB in the past year, the news is good. Hartnack said the bank will honor the interest rates paid on existing CDs, but changed the rates on new CDs.
U.S. Bank will also honor all the community and philanthropic commitments in place by SDNB through 2010, Hartnack said.
Aggressive Approach
Mike Perry, chief executive at San Diego Trust Bank, said USB has been in an aggressive acquisition mode for a while in an attempt to gain market share and to realize the economies of scale that come from running a more retail-oriented and transaction-focused bank.
Perry said USB will inevitably close branches and lay off workers as the bank strives to become more efficient at serving a larger number of customers.
"Their whole purpose for doing this deal (acquiring FBOP's banks) is gaining scale and efficiencies, and you don't gain efficiencies by retaining the same number of people. … You eliminate positions," Perry said.
USB's third-quarter results show a bank that continues to deliver higher profits, but also a higher amount of problem loans.
For the quarter, USB reported net income of $603 million, up 4.7 percent from the prior year's third-quarter net profits.
However, like practically all lenders, there's far more problem loans in its portfolio. Nonperforming assets as of Sept. 30 were $4.39 billion, nearly triple the number from last year's third quarter. Net charge offs, or loans the bank has written off and unlikely to be collected, increased to $1 billion, more than double the $498 million reported in the third quarter of 2008.
The company said those trends would likely continue through the end of this year.