From Spawar To Marketplace
Monday, November 16, 2009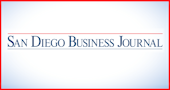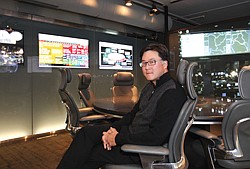 The U.S. Navy develops advanced technology to win wars.
On occasion, technology pioneered in Navy labs makes a foray into the civilian space.
The Space and Naval Warfare Systems Center Pacific, located in San Diego, operates a technology transfer office responsible for sending certain discoveries to commercial markets.
In recent years, for example, the office took a way to use colonies of tiny, one-celled organisms to measure the purity of water, and licensed it to Assure Controls of Carlsbad.
Other technologies wait to be adopted. For example, Navy inventors say they have found a way to use a stream of saltwater as an antenna capable of sending and receiving radio signals. The Navy is in the process of getting a patent for that.
The pace of licensing has eased as the economy has slowed, lab executives said in a recent interview. But it hasn't stopped completely.
"We actually felt pretty good we were able to get five deals across the finish line this year," said Gary Wang, SPAWAR's chief technology officer.
Milestone Deal
The lab, which employs 3,466 civilians and 160 military personnel, wrapped up a milestone deal one year ago. It licensed a package of 60 patents to Delaware-based Elemental Wireless. The patents cover computer software and hardware, digital imaging, lasers, optics and related topics.
The Navy has not disclosed terms of the deal. The initial licensing fee was in the seven-figure range and was reputedly the largest upfront payment ever negotiated by the Navy. Other royalties may follow.
Some 90 inventors created the patents in the package. Individually they received royalties of a few thousand dollars to more than $100,000.
Military technology transfer was the subject of a Nov. 4 seminar hosted by CommNexus, San Diego's telecom trade organization.
Rory Moore, the group's CEO, introduced the topic by noting there are risks in taking military technology to market.
Moore helped found and put money behind Peregrine Semiconductor, a San Diego company which worked to commercialize silicon-on-insulator microchip technology in the early 1990s. Part of the technology came from the Navy's Point Loma labs.
Moore said in his experience, the military technology was "not yet ready for prime time in the commercial sense, at all. We thought it was. It wasn't."
But with patience the situation turned around. Today Peregrine ships 5 million chips a week to cell phone companies.
Seeing The Light
Local companies using undeveloped, SPAWAR-spawned technologies today include Assure Controls, the Carlsbad company mentioned earlier. Assure is leveraging a SPAWAR discovery about dinoflagellates, the bioluminescent organisms responsible for creating red tides. It seems that as water gets more toxic, the minuscule organisms don't glow as brightly. Photodetectors can measure the light and give users a pollution reading.
To get the invention ready for prime time, Assure had to make the light detection machinery easier to use. Part of the solution, CEO Bryan Bjorndal said, was squeezing the bulky Navy electronics into something lighter and more compact.
Assure has grown rapidly, says Bjorndal, because of the "excellent support" it has gotten from the Navy. Also helping out were grants from CCAT, an Office of Naval Research project that helps move military technology into commercial markets.
Assure has five full-time employees and gets part-time help from senior figures in San Diego's tech and biotech companies.
Other companies that have licensed SPAWAR inventions are Lumedyne Technologies, also of Carlsbad. Lumedyne uses miniature motion-detector technology for oil exploration.
Carlsbad is also home to InteSys LLC, which is working on a robot that establishes communications links to hard-to-reach places. As it crawls, it senses where communication signals get weak — then drops a communications relays in that spot. It can repeat the process several times.
How does the federal government benefit from licensing its discoveries? It may not be the money, or even in some sort of economic stimulus. SPAWAR executives talk about how it helps cultivate talent.
For one thing, an entrepreneurial environment helps attract bright, young people to come work at SPAWAR Systems Center, Wang said.
For another, an environment where employees work with nongovernment partners exposes government employees to new ideas. "The center becomes stronger," Wang says.