Horsman Takes Leadership Role With U.S. Bank
Monday, November 16, 2009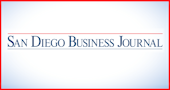 U.S. Bank said Nov. 16 that it has appointed Robert B. Horsman to the position of regional chairman for U.S. Bank in San Diego.
Horsman was previously president and CEO of San Diego National Bank. He was one of the bank's founders in 1981 and kept a leadership role after the bank was sold to First Bank of Oak Park, or FBOP, in 1997.
Federal regulators closed San Diego National Bank and several other FBOP affiliates on Oct. 30. U.S. Bank bought the financial institutions and reopened them Oct. 31.
Horsman is heavily involved in San Diego's business and cultural community. He is chairman of the Kyoto Prize Symposium, vice chair of the San Diego Zoological Society's foundation and has served as president of the San Diego Opera. He has worked on foundations benefiting organizations such as Scripps Mercy Hospital and UC San Diego.
— Brad Graves