Senator Visits UCSD, Views Stimulus-Funded Programs
Friday, November 13, 2009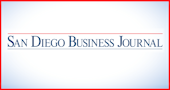 On a short stopover to witness firsthand the effects of federal stimulus package funding, Sen. Barbara Boxer toured the laboratories at UC San Diego's Moores Cancer Center Nov. 12.
As Boxer peered at images of pancreatic cancer cells and fluorescently labeled tumors, scientists explained how their work was guiding surgeons in removing cancerous tissues and how, one day, patients might receive more personalized treatment for their particular cancer.
Roger Tsien, winner of the 2008 Nobel Prize in Chemistry, explained how a green florescent protein from jellyfish is helping scientific researchers better visualize the inner workings of cells. A company, called Avelas Biosciences, spun out of UCSD based on his work.
UCSD Chancellor Marye Anne Fox praised the senator for her support in helping drive funding toward scientific research at a time when university funding has dwindled.
"This flood of funding into research is going to change the way we do not only biological research but also translational research," she said.
Dr. Dennis Carson, the center's director, said stimulus funding recently allowed the center to hire a neurooncologist to help lead a program aimed at developing new therapies for brain tumors.
Altogether, UCSD has received 152 grants through the American Recovery and Reinvestment Act, or stimulus package, totaling more than $91 million.
Boxer pledged to continue to support scientific efforts that help bring potential treatments to patients.
"Still, too many research grants are going unfunded," she said. "Right now we have a very strong NIH … but we know there's much more to do."
— Heather Chambers