As U.S. Bank Integrates SDNB, Questions Arise
Monday, November 9, 2009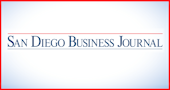 Patrons of San Diego National Bank, seized by regulators Oct. 30, will continue to work with familiar faces as U.S. Bank integrates the failed financial institution into its system.
Though "customer-facing employees" will keep their jobs, the future of San Diego National Bank's management is less clear. A U.S. Bank executive said last week she was not prepared to talk about key employees at the 28-branch bank.
SDNB was part of a takeover of nine banks owned by Chicago's FBOP Corp., which had been seeking new capital to comply with federal orders since last fall.
FBOP ran into trouble when the federal government took over Fannie Mae and Freddie Mac, resulting in a $900 million loss for the parent institution.
As reported in the San Diego Business Journal on Oct. 25, the Federal Deposit Insurance Corp. was negotiating the sale of FBOP's banks several weeks before the takeover was announced.
In addition to SDNB, with $3.4 billion in assets and the area's fifth-largest lender, regulators seized eight other banks in Arizona, California, Illinois and Texas.
Bank staff will soon get back into the business of making consumer and small-business loans, said Karen Racusin, a regional manager for U.S. Bank. SDNB had stopped lending.
Since U.S. Bank already has a branch network in San Diego, duplicate branches in certain neighborhoods may be consolidated, Racusin said. As of last week there had been no decisions on consolidations, she added.
U.S. Bank plans to turn SDNB branches into U.S. Bank branches midway through the second quarter, Racusin said. The schedule is tentative.
Including the 28 new branches, USB would have 86 branches in the county, second only to Wells Fargo Bank's 100 branches.
Attempts to reach SDNB President and CEO Robert Horsman were unsuccessful. Horsman remained at the bank as of Nov. 2, according to employees.
A Big Weekend
U.S. Bank reopened SDNB's branches to customers on Oct. 31. The following day, U.S. Bank gathered some 450 SDNB employees at the La Jolla Marriott to discuss the transition. The message to customer-facing employees, Racusin said, was they would be retained.
Racusin said the Sunday event was to help SDNB staff "go away from the weekend with a little less uncertainty."
San Diego National Bank was established in 1981. FBOP Corp. bought it in 1996.
The nine bank takeover was the largest by the FDIC since the financial crisis began in September 2008, and brings the total bank failures this year to 115.
Regulators said the closures will cost the FDIC's deposit insurance fund $2.5 billion.
'No Reasonable Prospect'
A statement from the Office of the Comptroller of the Currency, the primary regulator for the nine national banks, regarding the bank's closure said the agency "acted after finding that (San Diego National Bank) had incurred losses, including substantial losses attributable to write-downs on its investments in government-sponsored entities securities that will deplete all, or substantially all of its capital, that the bank had experienced substantial dissipation of assets and earnings due to unsafe and unsound practices, and there is no reasonable prospect that the bank will become adequately capitalized without federal assistance."
In buying the nine FBOP subsidiaries, U.S. Bank gained 153 branches in Arizona, California, Illinois and Texas. U.S. Bank purchased $18.4 billion in assets and assumed $18.3 billion in liabilities, including $15.4 billion of insured and uninsured deposits. U.S. Bank has a loss-sharing agreement with the FDIC regarding loans.
U.S. Bank will begin communicating with depositors as soon as possible, Racusin said. The federal government has requirements for how banks should communicate with their depositors, she said, adding U.S. Bank intends to go beyond the required steps.
The executive said San Diego National Bank leaves a legacy of good works, and said U.S. Bank intends to continue that community involvement.
Tony Cherin, a professor of finance at San Diego State University, called the bank's sale unfortunate for consumers because it limits competition.
It's no reflection on the buyer, Cherin said. It's simply a condition of fewer players in a market. Just as oil companies might follow a big player like Chevron Corp., he said, banks in a less competitive environment tend to follow the lead of a dominant institution.