Obesity Drug Deal Potentially Worth $1B for Amylin
Monday, November 2, 2009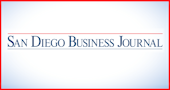 Amylin Pharmaceuticals said Nov. 1 it has partnered with Japan's biggest drug maker to co-develop obesity drugs in a deal worth an estimated $1 billion.
The San Diego biotech will receive $75 million upfront from Takeda Pharmaceutical Co. with milestone payments topping $1 billion. Under the terms of the agreement, Amylin could also receive double-digit royalty payments on global product sales.
"Amylin recognizes the enormous potential of this collaboration to advance more options in obesity treatment more quickly than either company could do alone," said Amylin CEO Dan Bradbury in a statement.
Amylin, which has two experimental weight-loss drugs in its pipeline, is responsible for bringing the products through mid-stage development. Takeda would develop the drugs beyond that and commercialize the drugs outside the United States.
Like other pharmaceutical firms, Takeda is seeking opportunities in biotech, where copying drugs proves more difficult because they are made from living cells rather than chemical compounds.
Like most major drug makers, it faces significant revenue loss as patents expire on some of its best-selling drugs. Actos, a $4 billion drug, threatens to leave a big hole in Takeda's top line when it goes off patent in 2011. A follow-up drug candidate to Actos, dubbed SYR322 and developed by San Diego scientists, has stalled in pursuit of regulatory approval in the United States.
Amylin has primarily been focused on diabetes drug Byetta, which it co-markets with Eli Lilly & Co. The injectable had sales of $678.5 million last year, accounting for 81 percent of its revenues. Amylin and Lilly are in the process of seeking FDA approval for a once-weekly version of Byetta. On Oct. 30, federal regulators approved the drug as a stand-alone medication for treating diabetes.
Amylin trades on the Nasdaq as AMLN. Shares were up 12 percent to $12.36 in midday trading Nov. 2. The stock's 52-week range has been $5.50 to $15.69.
— Heather Chambers