News In Brief
Monday, May 18, 2009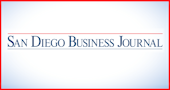 BakBone Buys Colorado Firm in $15.9M Deal
BakBone Software, a local firm that makes data protection software, said May 14 that it completed the acquisition of ColdSpark, a Colorado software firm, for $15.9 million in cash and stock.
The acquisition will give BakBone a strong entry into the rapidly growing enterprise message management market, said CEO Jim Johnson.
The company plans to make ColdSpark a division of BakBone and retain the office in Bloomfield, Colo., a spokesman said. ColdSpark has 23 employees.
Formerly traded on the Nasdaq and Toronto stock exchanges, BakBone shares are now available on the Pink Sheets, and were trading May 14 at 41 cents, giving the company a market capitalization of $26.5 million.
BakBone, which reported $14 million in third-quarter revenue in February, has 265 employees worldwide, and 15,000 clients, including Wells Fargo, Southwest Airlines and Boeing, according to a company spokesman.
?Mike Allen
???p>Nanogen Seeks Chapter 11 Protection
San Diego-based diagnostics company Nanogen said May 14 that it has filed for Chapter 11 bankruptcy protection.
Nanogen said it has agreed to sell the majority of its assets to the privately held French diagnostics company Elitech Group for $25.5 million, although the deal is subject to bankruptcy court approvals.
Nanogen, which failed to merge with Elitech last year, said it was unable to find an alternative and lacked enough cash to cover its debt and fund operations.

In documents filed with a Delaware court, Nanogen listed assets of $14.7 million and debt of $41.5 million. The company reported it had 124 people as of the petition date.
Nanogen and Elitech had announced plans to merge in August but the deal could not be completed by a March 31 deadline.
Shares of Nanogen, traded under the symbol NGEN on the Pink Sheets, closed at 12 cents May 13. Its stock previously traded on Nasdaq, but was delisted in March because of outstanding fees.
?Heather Chambers
???p>Cadence Seeks FDA? OK for Pain Drug
San Diego-based biotech Cadence Pharmaceuticals said May 14 that it has filed an application seeking FDA approval of a new pain medication.
The drug, called Acetavance, is an intravenous form of acetaminophen, the active ingredient in Tylenol. Cadence said it hopes to capture a market for the drug in hospitalized patients with pain or fever who are unable to take oral medications.
If approved, Acetavance would become the first new IV painkiller approved in the United States in more than 20 years and the only one for treating fever intravenously, according to the company.
Bristol-Myers Squibb sells the drug as a postoperative pain reliever in Europe and other parts of the world under the brand name Perfalgan.
?Heather Chambers
???p>Postage Rates Rise
The U.S. Postal Service raised the rate of sending a first-class letter by 2 cents to 44 cents, effective May 11.
Postcard stamps increased by a penny to 28 cents.
The first ounce of a parcel jumped 5 cents to $1.22.
Details on the rate changes are at usps.com/prices.
The Postal Service adjusted certain shipping prices in January. These did not change.
?Brad Graves
???p>Jack Leaves Logistics Business, Lays Off 200
Jack in the Box has contracted with J.B. Hunt, one of the country? largest trucking firms, to handle transportation from its distribution centers nationwide, and as a result is paring its work force by 200, mostly truck drivers, in a cost-cutting move, a spokeswoman for the publicly traded hamburger chain said May 12.
The spokeswoman said the company was of the understanding that J.B. Hunt would offer employment to its eligible drivers. Jack in the Box has seven distribution centers across the country, but none in San Diego County.
The amount of anticipated savings was not disclosed.
Jack in the Box trades on Nasdaq under the symbol JACK. It employs 42,000 workers.
?Connie Lewis
???p>Novocell Names New CEO
San Diego-based biotech Novocell, developer of embryonic stem cell therapies for diabetes, said May 11 that it named John West president and CEO.
West previously served as CEO of Solexa, a maker of genome sequencing technology sold to Illumina in 2007 for more than $600 million. Before Solexa, West was vice president of DNA Platforms, a unit of Applied Biosystems, now part of Carlsbad-based Life Technologies.
West replaces former CEO Alan Lewis, who left the company late last year to become head of the Juvenile Diabetes Research Foundation.
Novocell is working to advance techniques in stem cell research related to diabetes. Last year, Novocell was first to prove it could use human embryonic stem cells to generate insulin-producing pancreatic cells in mice.
In late April, the state? stem cell agency awarded Novocell two grants worth $6.2 million to advance safety methods for delivering stem cell therapies to people with diabetes.
?Heather Chambers
???p>Revenue Grows, But Kratos Defense Takes a Loss
Kratos Defense & Security Solutions, a local defense contractor specializing in information technology, reported a first-quarter net loss of $42.1 million on revenue of $83.9 million, compared with a net loss of $1.9 million on revenue of $68.2 million for the like quarter in 2008.
Kratos said it logged its fifth straight quarter of profitability on an operating basis. The reason for the loss was attributed to an impairment charge of $41.3 million caused by the continued decline in global markets that does not affect the company? liquidity or credit facilities.
The results were released after the markets had closed May 12. Shares trade on Nasdaq under KTOS.
?Mike Allen
???p>This Bull Has Wings: Air Race Offers Spectacle
The Red Bull Air Race flew through San Diego on May 9 and 10.
This is the third year the city has hosted the multi-city competition, which is also its only stop in the United States. The race features prop planes that reach speeds of more than 200 mph as they navigate a slalom-style racecourse on San Diego Bay.
?Mike Allen
???p>Union-Tribune Fills Publisher? Seat
The San Diego Union-Tribune named Ed Moss the newspaper? president and publisher. Moss was to begin work May 18.
The move comes as San Diego? major metro daily transitions to new ownership. Platinum Equity of Beverly Hills closed its purchase of the U-T on May 4.
Moss is leaving his job as president and CEO of the Los Angeles Newspaper Group. The chain? nine newspapers include the Los Angeles Daily News.
The Union-Tribune announced Moss?appointment May 12.
?Brad Graves
???p>Market Shows Interest in Temecula Valley Stock
Trading of shares of Temecula Valley Bancorp was about 10 times the normal volume May 12 as the stock gained 52 percent to close at $1.07 on the Nasdaq exchange, often a sign of a major announcement.
? don? have any explanation or answer for you,?said CEO Frank Basirico, in charge since December after longtime founder, chairman and CEO 01-Steve Wacknitz had his contract terminated.
Now operating under a cease and desist order from regulators, Basirico has been attempting to attract new capital into the troubled lender that reported nearly 8 percent of its assets as nonperforming as of Dec. 31.
There? lots of lookie-loos, scouring the $1.3 billion bank? books.
Basirico said he? signed 38 confidentiality agreements and hopes to have a definitive agreement in place within 30 to 60 days.
?e?e doing everything we know how to complete our strategic plan and goals,?he said.
The Temecula-based bank has seven branches in San Diego County. Its stock trades under the symbol TMCV.
?Mike Allen
???p>State Shouldn? Tax Golf, Association Warns
Time to yell fore!
National Golf Day was May 13, according to an organization called the California Alliance for Golf.
The group wants to let folks know about the sport? positive impacts to lives and livelihoods, and the state? economy.
Specifically, the industry is responsible for creating 160,000 jobs in the state, either directly or through the hospitality, retail and landscape industries, CAG says.
Also, golf put $6.9 billion into the state? economy in 2006, mainly through tourism, property taxes, income taxes and taxes on golf merchandise.
CAG thinks the sport and industry have been sufficiently taxed, and wants to squash an effort in Sacramento to impose a sales tax for playing at golf courses.
The move would be detrimental to the vast majority of duffers, and likely result in fewer rounds played, and fewer dollars for the state? depleted coffers, CAG says.
North County is home to some of the biggest club manufacturers in the nation, including Callaway Golf, TaylorMade-adidas Golf, Aldila and Cobra Golf. According to a state report, 2,700 San Diegans are engaged in recreational manufacturing, most of which is golf related.
?Mike Allen