San Diego People
Monday, May 4, 2009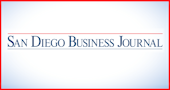 HealthFusion has hired Chris Neppes as director of marketing. He will be responsible for heading the health care software service's marketing efforts to include branding, strategy, advertising, Internet presence and trade promotions.
Neppes possesses 10 years of experience in marketing. He was previously director of sales and marketing for Port80 Software and worked for Dorland Global in Philadelphia.
Biotechnology
Halozyme Therapeutics has appointed Kurt Gustafson to vice president. Gustafson has managerial experience in financial planning and analysis, as well as accounting. He worked with Amgen for 18 years, most recently serving as vice president of manufacturing finance. Gustafson received his degrees from North Park University in Chicago and UCLA.
Construction
Seville Construction Services has hired Henry Amigable as senior vice president and regional manager. He will be responsible for its San Diego and Inland Empire regions. With 20 years' experience in construction management, Amigable has managed education, aviation and transportation projects. He has served in upper management positions at Gilbane Building and Douglas E. Barnhart.
Education
UC San Diego Extension has hired Susan Varnum as director of the Digital Arts Center. She will oversee the continuing education certificate programs of digital graphics and Web design and video. Varnum has experience in postproduction as a 3-D animator, compositor and motion graphic artist and has worked on advertising campaigns for Sony, Ford and Coors.
Government and nonprofit
Target Vice President of Technology Services Jeff Mader has joined the board of trustees for United Through Reading. The nonprofit specializes in assisting separated families connect through reading aloud to children via DVD. He is a graduate of the University of St. Thomas and Minnesota State University.
The United Cerebral Palsy Association of San Diego County has elected Greg Wells and Ben Escobedo as members of the charity's board of directors. Wells is employed at Grubb & Ellis|BRE Commercial Realty and Escobedo serves as director of Turbotec, a division of Solar Turbines.
Kevin Ribotsky has joined the board of directors for Providence Speech and Hearing Center. He's a graduate of Manhattan's New School and has experience in the pharmaceutical and medical device industries.
Law
Stephanie Baril has joined Casey Gerry Schenk Francavilla as associate attorney. Her practice will focus on personal injury cases, including product and premise liability. She is a graduate of the University of San Diego Law School and a former member of the San Diego Law Review.
Media and Marketing
VMIX Media has appointed Bill Curci to vice president of marketing. He has 17 years' experience in marketing, management and business development. He was previously employed at Sun Microsystems, where he led Java software's product marketing. He holds degrees from Santa Clara University and UCSD.
Real Estate
Lee & Associates has hired five brokers , Steve Malley as principal, Mary Kay Bier and Ryan Munson senior associates, and Mark Lewkowitz and Evan McDonald associates.
Malley is a former vice president and managing director of Sperry Van Ness and specializes in selling and leasing commercial and business space. He has 10 years of real estate experience and was also formerly employed with Studley. Bier has 19 years' experience with an emphasis in flex and research and development space. She most recently worked at Cushman & Wakefield. Munson, also previously of Cushman & Wakefield, focuses on tenant and landlord representation. A former associate adviser at Sperry Van Ness, Lewkowitz attended UCSD. McDonald, who also went to UCSD, will serve on Malley's broker team and is a member of the Urban Land Institute.
Professional Community Management has promoted Dana Davidson to senior director of community management. Davidson has worked with PCM for the past 11 years and most recently served as customer service manager. She will oversee two community associations and other community managers. Additionally, Davidson will assist in business development.
Technology
Nirvanix has hired Stephen Foskett as director of consulting, Arvind Gidwani director of solutions services, and Brian Schwarzentruber solutions architect. Foskett possesses 15 years of consulting experience and is also a writer, speaker and blogger in the storage software industry. Gidwani has expertise in infrastructure areas such as storage, networking, and security and data center design. Schwarzentruber has 20 years' experience in startup company management and most recently served as senior engineer at Continuity Software.
, Cassandra Dump