Job-Seekers, Employers Come Together May 5
Monday, May 4, 2009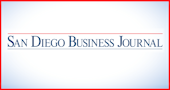 Cuyamaca College has set May 5 as the date for its campus job fair.
The event runs from 9:30 a.m. to 12:30 p.m. at the new student center. The center is at the north end of the campus near the Cuyamaca College Drive West entrance, off Jamacha Road in Rancho San Diego.
Representatives from 60 businesses and organizations, from both the government and private sectors, will be at the fair.
Bill Garrett, president of the college board, calls the fair a way for job seekers to gather information on the contemporary job market and to "scope out new possibilities."
More information on the May 5 event is available by calling 619-660-4450 or at cuyamaca.net/careerserv. Go to the left of the page and click on the words "Career Fair."
, Brad Graves