PhotoThera Raises $50M
Friday, May 1, 2009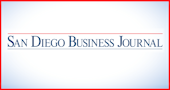 PhotoThera, a Carlsbad-based developer of laser therapy for treating ischemic stroke, has hired a new CEO and raised $50 million in its latest round of financing.
The Series D round was led by private equity firm Warburg Pincus, along with the Vertical Group, Hamilton BioVentures, Delphi Ventures, DeNovo Ventures and individual members of Monterey Advisors.
The funds will support a follow-on Phase 3 clinical study called NEST-3, for NeuroThera Effectiveness and Safety Trial. A previous NEST-2 study showed the therapy safe but not effective overall in a trial involving 660 people who suffered ischemic stroke that day.
Additionally, PhotoThera said it has hired Arthur Taylor to serve as its president and CEO. Taylor most recently served as vice president and general manager for Kyphon Products' spine and biologics unit, a division of medical device giant Medtronic.
Taylor succeeds Thomas Wilder III, who "decided to pursue other opportunities" after serving as PhotoThera's CEO since April 2006.
, Heather Chambers