Demand Runs High for Short Supply of Green Office Space
Monday, March 30, 2009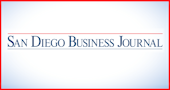 Looking for green office space? Your options are limited in San Diego unless you build your own environmentally friendly and energy-efficient building.
More than half of the local U.S. Green Building Council LEED-certified commercial office buildings are owner-occupied, including buildings for wireless giant Qualcomm and pharmaceutical firm Pfizer, which has a large local presence. The majority of the remaining LEED buildings are 100 percent leased. Only 205,000 square feet of the county office market's overall 107.9 million square feet has earned the LEED stamp of approval and is available for rent.
Those looking for LEED-certified office space today have only two options , La Jolla Commons in University Towne Center and the North Island Credit Union building in Kearny Mesa.
The 14-story, 300,700-square-foot La Jolla Commons has 175,000 square feet of available green space. It was recently completed in September 2008.
Already, audit and tax firm KPMG International, commercial brokerage Jones Lang LaSalle, international law offices of Paul, Hastings, Janofsky & Walker, and U.S. Bank have signed leases for 50 percent of the building's space.
La Jolla Commons by Texas-based Hines and national financial services organization TIAA-CREF was the first new high-rise constructed in UTC in 15 years.
"Going green has indeed affected our tenant activity," said Paul Twardowski, San Diego vice president of the Houston-based real estate management and development company.
Hines is recognized as one of the largest green and sustainable commercial builders in the nation, with 119 projects representing more than 60 million square feet that have been certified, precertified or in the application process for LEED certification.
The rental rate for available space at La Jolla Commons is $49.90 per square foot per year.
Bank Building Draws Interest
Space is also available at the North Island Credit Union office building in Kearny Mesa. North Island Credit Union is the owner and primary tenant in the build-to-suit building, which was completed in January. The local credit union is leasing out 27,000 square feet of the 129,135-square-foot building.
Matt Carlson, a marketing broker with Cushman & Wakefield, said there is ample interest in the property.
"Interest is good considering the market. We have a handful of proposals out," said Carlson. "The LEED certification has definitely helped as a differentiator."
Options will begin to open up for those looking for LEED space in the next few months. The Green Building Council reports there are 72 registered commercial projects in San Diego alone. Registered projects are developments that are currently under construction or planned. Registering a project for LEED certification indicates intention of earning certification upon completion.
While some of the registered projects are on hold in the down economy, several are finished or finishing up construction.
San Diego-based McMillin Commercial recently completed a three-story, 104,400-square-foot office project at Liberty Station in Point Loma. This $11.5 million building is 76 percent preleased to BAE Systems. Tenant improvements for the defense contractor will begin next month.
Joe Haeussler, vice president of leasing and development at McMillin, said both McMillin and its anchor tenant embraced the idea to construct a sustainable, environmentally friendly and energy-efficient building.
"Over time we will and the tenant will realize there is a payoff for LEED," said Haeussler.
The 25,000 square feet of available space in the building, which McMillin is calling "Building 902," is attracting tenants' interest for both its green features and because it's the last available space in the 380,000-square-foot commercial district in Liberty Station.
McMillin anticipates earning LEED certification upon completion of tenant improvements for BAE Systems.
In addition, green space is available at Terraces at Copley Point Class A office campus in Kearny Mesa. Developer Sudberry Properties of San Diego has available space in its two six-story, midrise office buildings totaling 380,000 square feet. The space is 55 percent leased.
Sudberry's LEED application is currently in review.
Converting To
LEED Standards
Tenants can also find available space in older office buildings. Several office building owners are striving for a LEED designation in their existing buildings.
Hines is attempting to achieve LEED certification at Golden Eagle Plaza downtown, otherwise known as 525 B Street. The existing building was built in 1969.
The 22-story Golden Eagle Plaza has 447,200 square feet of space and is 83 percent leased. The owners said the Energy Star-rated building will take steps toward achieving LEED certification to attract and retain quality tenants.
The average rental rates for available space at Golden Eagle Plaza is $27.09 per square foot per year, according to CoStar Property, a commercial real estate information company based in Bethesda, Md.
In addition, San Diego-based Sentre Partners is reportedly also going for LEED certification at Columbia Center downtown at 401 W. A St. Columbia Center is a 24-story, 553,700-square-foot office building built in 1983. It is 72 percent leased. The average rental rate on available space at Columbia Center is $34.33 per square foot, per year.
"Options for tenants right now are limited," said Scot Ginsburg, a tenant broker with Jones Lang LaSalle.
Ginsburg said rents in LEED-certified buildings can be 10 percent to 20 percent more than non-LEED buildings. The average rent in the fourth quarter was $32.16 per square foot per year, or $2.68 per square foot per month, according to Voit Commercial Brokerage's San Diego office.
Ginsburg said he has had a handful of tenants seeking green space in the past year. He said tenants seeking LEED space generally have the financial wherewithal to pay higher rents and sign longer leases.
He added that a select few will be willing to pay more for space in the next 24 months.