C4 Waterman's Paddleboard Finalist for Surfboard of the Year
Monday, March 30, 2009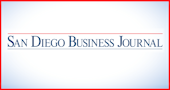 A stand-up paddleboard designed by C4 Waterman, based in Encinitas and Honolulu, Hawaii, is one of five finalists for Board of the Year by the trade group Surf Industry Manufacturers Association, or SIMA, which honors top designers, producers and retailers in the industry.
"It's our Academy Awards on the product side," said PT Townend, a surfing industry consultant and board member of the San Diego nonprofit group, Connect Sport Innovators. "And it could be very good for business if you win."
The paddleboard, called Subvector9-3, is the only stand-up paddleboard ever nominated for the award, said Townend.
SIMA said it was the most advanced short stand-up paddleboard on the market, and that its thermal epoxy compression , which is a patented manufacturing process by Boardworks of Encinitas , is light, strong and eco-friendly.
The stand-up paddleboard category, called SUP, is quickly gaining traction among older surfers and in inland markets where people use them to paddleboard on lakes and rivers, says C4 Waterman Chief Operating Officer Bob Rief, who is also COO of Boardworks.
"I think it's a breakthrough for that category," says Townend.
Another local company, Firewire Surfboards, is being honored by SIMA in the Breakthrough Brand of the Year category. Firewire, whose design was honored by Connect as the 2008 Most Innovative Product, is one of five nominees. To qualify, a nominee must have experienced breakthrough growth in 2008 and annual U.S. sales between $1 million and $25 million.
Firewire boards allow compressed air to vent between the core and exterior of the board during extreme temperature and air pressure changes to prevent breaking.
Winners of the Seventh Annual SIMA Image Awards will be announced during the SIMA Surf Summit 12 in Cabo San Lucas, Mexico, May 6-9.
- - -
UCSD Upgrades Boost Virtual World Research: Researchers at UC San Diego announced plans March 17 to build a new computer center dedicated to inventing the next generation of virtual worlds, multiple player online games, and high-fidelity digital cinema.
The Next-Generation Digital Media Center will be run on an IBM System Z mainframe computer. IBM provided the resources through its Shared University Research program.
UCSD students will tap into specialty engines designed for a new generation of virtual applications , that allow many, many users to share the same environment.
One program already slated is "Scalable City" under UCSD's Experimental Game Lab. The city can be experienced by thousands of users 24 hours a day and seven days a week.
Another early project will focus on new production platforms for digital cinema through the California Institute for Telecommunications and Information Technology (Calit2) digital cinema facilities.
- - -
The Business Impact Of Climate Change: UCSD announced March 23 a new program for executives to learn the impact of climate change on business.

"The ROI for Going Green" will provide participants with an understanding of climate change, and what strategies businesses and investors can employ to increase their bottom line.
Scripps Institution of Oceanography has partnered with the university's Rady School of Management to present the second installment in an executive development series teaching business leaders basic science behind climate change, empowering them to compute the return on investment for going green.
The program combines management expertise at Rady with the science of Scripps.
The course will help businesses compute return on investment and move forward with corporate planning built on a foundation of settled science.
Scripps Institution of Oceanography, conducting climate research for more than 50 years, is home of the "Keeling Curve," an historical graph of atmospheric carbon dioxide levels.
More recently, the Intergovernmental Panel on Climate Change won the 2007 Nobel Peace Prize along with former Vice President Al Gore.
- - -
Private Equity Firm Invests In DR Technologies: Nogales Investors Management, a Los Angeles-based private equity firm, recently acquired a controlling interest in DR Technologies, a San Diego company that develops and manufactures advanced composite products for aerospace and defense industries.
DR Technologies makes highly engineered antenna reflectors and bus structure components for satellites; and composite structural components for military and civilian aircraft as well as missiles and telecommunications products.
DR Technologies' CEO Lyle Dunbar said the financing, which was announced March 3, is necessary to implement its growth strategy.
Send technology news items to Ned Randolph at nrandolph@sdbj.com.