San Diego People
Monday, March 23, 2009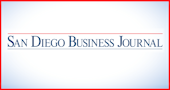 ID Analytics, which offers identity fraud services to businesses and governmental clients, has hired Jim Pathman as chief information officer. Pathman is a senior technology and operations executive with 20 years of industry experience.
He will oversee the technical teams that build, maintain and support the company's production, analytics, development, and back office systems. In addition, he leads the day-to-day management of various company teams and customer support.
Before joining ID Analytics, Pathman served as senior vice president and chief information officer for the Small Business Finance Division at Lehman Bros.
FINANCE
Point Loma Credit Union has named Zachary Morrison manager of its Kearny Mesa branch. He has worked at two regional banks, and recently managed sales and operations of a credit union.
GOVERNMENT AND NONPROFIT
Fleet Week San Diego has selected its 2009 board members, including Chairman Jim Zortman, President Pete Hekman, Vice President John Pettitt, Treasurer Henry Johnson, Secretary Jim Bedinger, as well as members Joe Craver, Pete Hedley, Aimee Heim, Jim Philion and Cathy Spetter. Fleet Week honors military personnel.
The Southeastern Economic Development Corp. has hired Terry Darden as chief financial officer. Darden holds degrees in business administration and accounting from National University. She has 25 years' accounting experience. She previously worked with SOS Metals/Trans World Alloys as vice president of finance and administration and oversaw financial management for operations in the United States, Asia and Europe.
HEALTH CARE
Health Care Group, manager of nine local senior housing and care facilities, has promoted Todd Shetter to chief operating officer from vice president of marketing and operations. He joined Health Care Group in 1987 and has 20 years of experience in the senior housing and health care industry. Shetter is a licensed nursing home administrator in California, board chairman of the nonprofit Glenner Alzheimer's Family Centers and board member of California Assisted Living Association. Shetter oversees operations and marketing for the nine Health Care Group communities.
American Specialty Health has named Executive Vice President of Operations Julie Jennings as chief wellness operations officer. Jennings will be responsible for operational oversight and performance of ASH's wellness and fitness programs, including its wellness subsidiary Healthyroads.
LAW
Procopio, Cory, Hargreaves & Savitch has hired Noel C. Gillespie for its Intellectual Property Team as partner. Gillespie joins Procopio from the San Diego office of Baker & McKenzie. He will assist clients with strategic patent portfolios in order to protect their technology, including developing claim strategies and preparing and prosecuting U.S. and foreign patent applications. He is a graduate of San Diego State University and the University of San Diego.
The Legal Aid Society of San Diego has named Anthony Stiegler, a partner at Cooley Godward Kronish, president-elect. He will hold the role until his two-year term as president begins in 2011. Stiegler is a commercial and intellectual property trial lawyer, specializing in complex technology, life sciences and intellectual property matters.
REAL ESTATE
Lee & Associates' Carlsbad office has promoted Randy Dalby and Greg Pieratt from senior associates to principals. Dalby joined the firm in 2006 and specializes in retail/landlord representation, leasing, sales and development. Pieratt specializes in all areas of industrial, office and investment transactions, including tenant and landlord representation. Pieratt has successfully completed multiple industrial building sales and office leases throughout North County.
Sara Driscoll and Daryl Petsch have joined Windermere Exclusive Properties as real estate agents. Driscoll and Petsch have 20 years of sales experience in the local housing market.
TECHNOLOGY AND MANUFACTURING
Veridiam has appointed Andrew Gale to CEO. He will oversee operations of all Veridiam business units, including Veridiam Medical, Veridiam Advanced EDM, Veridiam Allied Swiss, and Point Technologies. Former CEO Neal Nord & #173;strom will remain with Veridiam and serve in an executive capacity. Gale has 25 years of experience in the manufacturing field.
The I.T. Pros has hired Bonnie Owens as senior account executive. Owens has 20 years of sales and management experience and will be responsible for assisting in continued company growth. Most recently, Owens managed account executives at Corporate Technologies.
NexAira has appointed Brad Weinert and Jim Grey to its board of directors. Weinert, who formerly served as president and acting CEO of Novatel Wireless, will serve as chairman of the board. Grey was previously CEO of Radiant Communications and will serve as director. Both will oversee business development and strategic management.
, Cassandra Dump