Surfboard Maker Riding Out the Storm
Monday, March 16, 2009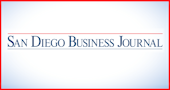 Longtime businessman Bob Rief says not all sectors are suffering equally, and that small companies in niche markets are "the mortar between the bricks" of the economy.
Rief and his three partners purchased Boardworks for an undisclosed price in May. The local surfboard distributor makes 10,000 custom boards a year designed by world-famous surfers, called shapers. The boards are manufactured through a process called thermal epoxy compression, or TEC.
Boardworks recently moved to a 5,000-square-foot headquarters in Encinitas from Oceanside and opened satellite warehouses in northern Florida and Indianapolis. The latter is to distribute C4 Waterman standup paddleboards, which is a popular new category in coastal markets and inland waterways and lakes, says Rief, who is chief operating officer of both Boardworks and C4 Waterman.
"Retail is decelerating definitely, even surf retail, but I think the press is over-reporting the retail downturn," he said."
Of the 650 sports and active-lifestyle companies in San Diego, many are looking for ways to reduce costs.
"I don't have any hard facts, but there have been a number of closings reported of small chains and individual storefronts," said Marco Thompson, founder of the nonprofit Connect's Sports Innovators program and managing director of venture capital firm Express Ventures.
"I think the impact of the recession has been very similar in the surfing industry as the general retail industry," he said. "I think the innovation economy has been healthy. Companies seem to be being born at the traditional rate of birth. The challenge for the company is, where do they get their first financing and half million."
Custom Designs
Boardworks is known more for the 18 shapers the company carries, who are legendary in the surfing world , Bill Stewart in San Clemente, Ben Aipa in Oahu, Hawaii, Dewey Weber, and Don Hansen, "an Encinitas institution," says Rief.
The shapers have their own custom line, but turn to Boardworks to augment sales. Boardworks gets them into shops around the country as well as Asia and Europe, says Rief, who is former CEO of Reef Sandals, CEO of Sanuk Sandals, vice president of Callaway Golf and general manager of Nike Golf in Portland, Ore.
"We have really well-known shapers with a niche position," he said. "We're optimistic in this hell storm out here called the economy."
Boardworks actually manufactures the boards in China.
Workers shape board cores by hand, place them in a mold and then compress resin layers over them using a patented process. The product that comes out is then finished and painted.
"The material is much stronger, lighter and durable (than fiberglass)," he says. "It's a much more extended product life cycle, which is eco-friendly."
The boards retail from $550 for 6-foot boards to $1,700 for 16-footers.
"The shapers know the boards are strong and they surf well," Rief said. "There are also a few environmental guys out there who are concerned about polyboard construction."
Boardworks' TEC boards last four to six times longer than polyboard surfboards. The boards float higher and make paddling easier. They also weigh less, he says.
"The average age of the surfer these days is 28 years old. They get business obligations, family obligations, girlfriends become wives. There's less time for surfing," he said. "TEC boards are overdrive for guys participating in the population curve."
Innovation
Jim Cleary, sports patent attorney with Mintz Levin, says acceptance of epoxy boards has also grown with better technology.
"In the past, some of this new technology was looked at with a jaded view," Cleary said. "Now I think anything that will improve the performance of a tool for allowing someone to cut quicker, have longer rides, and better turn ability is being adopted."
Recently, Firewire Surfboards won Connect's Best Innovative Product award for an item that releases pockets of compressed air through a valve when the board bends to avoid breaking.