Researchers' Joy Stems From New Funding Policy
Monday, March 16, 2009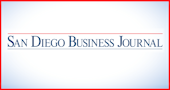 Scientists with the Burnham Institute for Medical Research didn't waste time last week in tearing stickers off their equipment that had long served as a reminder of the restrictions on human embryonic stem cell research.
An eight-year-old ban limiting the use of federal taxpayer money for related research had led to duplicate equipment at Burnham and labs across town. The stickers were used to designate microscopes and other lab tools bought with federal dollars versus private funds.
Local stem cell researchers said they'd been waiting for the day that President Obama would make good on a campaign promise to reverse the stem cell restrictions put in place by then-President George W. Bush in August 2001.
That day came March 9, when Obama reversed the ban on federal funding.
"I was ecstatic," said Evan Snyder, who leads La Jolla-based Burnham's stem cell program. "I thought, 'It's about time.' "
A Bush directive limited the use of taxpayer money to 21 stem cell lines created before August 2001. Bush and his supporters said they were defending human life. The days-old embryos, which are destroyed for stem cell research, are typically from fertility clinics and otherwise destined to be thrown out.
Potential Discoveries
The reversal allows local research labs to apply for federal funding that could push new discoveries in the fight against diseases such as Alzheimer's, Parkinson's and diabetes.
Embryonic stem cells are considered the "gold standard" of scientific research because they give rise to 200 cell types in the body. The cells act as a repair system for the body and have shown promise in treating neurological conditions, rare diseases such as Lou Gehrig's and Huntington's, and for regrowing bodily organs and tissues.
"Today, the best way to produce a stem cell therapy for a disease like diabetes is with human embryonic stem cells," said Alan Lewis, former head of San Diego-based stem cell engineering company Novocell, who now leads the Juvenile Diabetes Research Foundation.
Before last week, researchers who worked with human embryonic stem cells had limited access to government funding through federal agencies such as the National Institutes of Health, the largest source of funding for academic research in the nation. Some applied for funding through the San Francisco-based California Institute for Regenerative Medicine, established in 2005 after voters approved Proposition 71, the Stem Cell Research and Cures Initiative.
Providing $3 billion in grants and loans for stem cell research, it had become the world's largest funding source for human embryonic stem cell research.
While the agency created new avenues for funding research at universities and nonprofit biomedical institutions, it left many businesses hungry for funds. And cautious investors unsure whether to risk their money in stem cell research bypassed early stage stem cell companies for later-stage endeavors.
Local stem cell researchers and biotech executives say the ban reversal will fuel job creation in the region and lead to greater business opportunities.
Greater Revenues
Joydeep Goswami, vice president of stem cells and regenerative medicine for Carlsbad-based Life Technologies, which makes tools for drug discovery and was formerly called Invitrogen, said he expects to see an uptick in sales of stem cell tools and reagents.
"There's a lot of business that goes into these types of cells and funding for them is beneficial," he said.
Other businesses that stand to benefit from the ban reversal are: International Stem Cell of Oceanside, which uses human embryonic cells to make corneal tissue; La Jolla's Stemgent, which makes lab tools; and Novocell, which develops insulin-producing cells from human embryonic stem cells to treat diabetes.
The worldwide market opportunity for human embryonic stem cell research is generally considered to be $50 million.
Along with the business opportunities comes administrative and political considerations, according to John Simpson, project director of stem cell research with Santa Monica-based Consumer Watchdog, a nonprofit taxpayer advocate group.
"If taxpayers fund the research, it's only right they should share equitably in the profits," he said.
Some scientists said that until they can obtain funding to create new embryonic stem cell lines, a provision left out of Obama's reversal, the new policy will only partially eliminate restrictions that have stalled research.
Simpson added that federal officials would be wise to consult with the California Institute for Regenerative Medicine, which has approved 300 grants totaling $693 million.
"There's going to be a real need to collaborate with the NIH and have a discussion between the scientists at NIH and at CIRM to find ways of using the money smartly," he said.
Editor's Note: A previous version of this story referred to Stemgent by another name. This version corrects the story.