Banks Showing Little Interest In No Interest Loan Program
Monday, June 15, 2009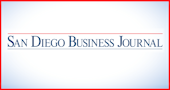 A no interest loan program intended to help business owners catch up on past due payments for other loans may find few takers among commercial banks.
The $35,000 loans carry no interest, don't require repayments for 18 months after the loan is made, and are 100 percent guaranteed by the U.S. Small Business Administration, yet few banks are lining up to make the loans, and some say they likely won't be extending the loans.
Paul Rodeno, chief executive at Security Business Bank of San Diego, says he isn't sure whether his bank, which does SBA loans, would participate in the program called America's Recovery Capital.
"The idea of lending somebody money to make payments (on other loans) doesn't sit well with me," Rodeno said.
Ruben Garcia, SBA director for the San Diego District, says about half the lenders responding to a survey said they would provide the ARC loans.
He says small-business owners wouldn't be charged interest on the money. The SBA would pay banks 2 percent over the prime rate, which has been holding at 3.25 percent.
Garcia says the loans could be a huge help to a mom and pop retailer or firm that's been struggling to make payments on outstanding debt.
The ARC loans are only one part of the federal government's $730 million in stimulus package funding to the SBA that is itself part of the national $787 billion recovery package.
New Offerings
Other programs are extending the guarantee portion on SBA loans from 75 percent to 90 percent; eliminating fees associated with loans; expanding a micro-loan program, including increased technical assistance to micro-lenders; and providing $10 million to the Office of Inspector General for increased oversight of the SBA programs.
Garcia says recent reports show the programs are helping to advance more loans.
However, based on the most recent monthly report from the local SBA office, lending is down dramatically.
For the eight months ended May 31, the San Diego District had 298 loans that totaled $98 million. For the like period of last fiscal year, local lenders made 722 loans for $233 million. The number of loans declined 58 percent.
Garcia says lending has been down across the nation because of the terrible economy and the fact that many banks have tightened their underwriting standards and are being more cautious.
Banks that are carrying higher levels of problem loans aren't likely to participate in the new programs.
At Discovery Bank in San Marcos, which laid off its two SBA loan officers this year, CEO Frank Mercardante says he has doubts that the programs will have any substantive impact. He says Discovery, in the process of being acquired by Commerce West Bank of Irvine, has been trying to maintain its customers and hasn't been aggressively seeking new SBA clients.
At least one bank, Wells Fargo, didn't see a drop in its local SBA lending. The San Francisco-based lender reported 50 loans for $14.3 million through May within the San Diego district, tying for the top spot with CDC Small Business Finance, which mainly handles real estate acquisition loans, and partners with other lenders.
"Our average loan in San Diego is up by about $100,000 over what it was at that time last year," said Steve Doss, sales manager for Wells Fargo's Southern California region in Escondido.
This year, Doss says local borrowers were getting larger loans, while there appeared to be fewer loans to smaller startups. The bank hadn't changed its underwriting standards, but the big challenge was finding qualified borrowers.
Doss says Wells would definitely participate in making the ARC loans, "but until we know the rules of the road (regulations covering how the loans are underwritten and processed), we're still in a holding pattern like everyone else."