Six-Lane Freeway Project Under Construction in Otay Mesa
Monday, June 8, 2009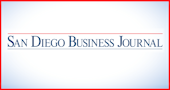 The California Department of Transportation says the first phase of construction on state Route 905 in Otay Mesa began May 27.
The $76.8 million project would facilitate trade between California and Mexico by building connectors between Interstate 805 and the U.S.-Mexico border.
The three miles of freeway being built connect I-805 with Britannia Boulevard, and will eventually connect to the border at the Otay Mesa port of entry. Caltrans is planning connectors at state Route 125 and possibly Heritage Road. "A combination of all are being built," said Edward Cartagena, Caltrans' media relations officer.
Colorado-based Flatiron Construction and Santa Ana-based Sukut Construction have joined together as contractors for the project and are "currently gearing up and preparing to bring in the manpower and equipment," Cartagena said.
The project is expected to create 1,400 jobs and be completed in 2012.
The six-lane freeway project has not experienced any setbacks, in part because of its substantial funding. The American Recovery and Reinvestment Act, aka economic stimulus package, is providing $74.4 million for the construction. State funds and local gas tax revenues are expected to cover the remaining costs.
The entire SR-905 project will cost $620 million and create eight miles of a new six-lane freeway alignment from the Otay Mesa port of entry to I-805. Annual trade between California and Baja California totals $35 billion, and border ports of entry process 2 million trucks each year, a figure expected to double within the next decade, according to Caltrans.
, Molly Pappas