San Diego People
Monday, June 8, 2009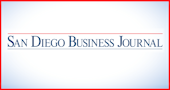 Executive Spotlight: Jeffrey W. Cavignac
Jeffrey W. Cavignac was recognized with the Agent of the Year award by the Insurance Brokers & Agents of San Diego. Cavignac has 28 years of experience in the insurance brokerage industry. He is currently president and principle of leading the risk management and insurance brokerage firm, Cavignac & Associates.
Banking and Finance
Comerica Bank has promoted Peter Guilfoile to executive vice president and chief credit officer. Guilfoile will be responsible for overseeing the operations of the Arizona and California offices out of San Jose. He has more than 26 years' experience in the financial industry. He graduated with an M.B.A. from the University of Michigan.
Government and Nonprofit
The San Diego Museum of Art's board of trustees announced the resignation of its executive director, Dr. Derrick Cartwright. Cartwright will be taking a position at the Seattle Art Museum as its executive director. He leaves the San Diego Museum after more than five years of service.
Sherral Bearss has been hired as the membership director for the San Diego East County Chamber of Commerce. Bearss will be responsible for recruiting business members for the Chamber, as well as managing its outside sales representatives. She has more than 23 years of experience in marketing and sales. Bearss earned her bachelor's degree in journalism and advertising from San Diego State University and is currently attending UC San Diego at night.
The California Association of Community Managers said that 10 local community managers have been honored with the Certified Community Association Manager award for the first quarter. The award honors professionals who have completed the statewide association's educational coursework and fulfilled minimum requirements of work within the field of community association management.
The award winners include Debby Baker of California Community Management in Escondido, Corey DeLano of The Prescott Cos. in Carlsbad, Maura Eisele and Tina Ramirez of The Prescott Cos. in San Diego, Carla Houghton with The Prescott Cos./The Metropolitan in San Diego, Jim Jennings with The Prescott Cos./The Legend in San Diego, Tonia Ferreira with Park Row Community Association in San Diego, Jacqueline Hodges with Menas Realty Co. in San Diego, Wendy Leicht of the Uptown District Owners Association in San Diego, and Ruth Marshall of Playmor Bernardo Homeowners Association in San Diego.
Insurance
Cavignac & Associates has hired Barbara Cohen as a senior commercial account manager for its Construction Department. Cohen has 27 years of experience in the commercial insurance industry. Her new job entails acting as the primary contact for select clients. She will be coordinating the risk control services for these clients along with overseeing their insurance programs. Cohen is a graduate of Rutgers University.
Media and Marketing
Sorenson Media has named Eric Quanstrom vice president of marketing and strategy. He will be responsible for overseeing and guiding programs for the company's online videos. Sorenson Media also promoted Kirk Punches to vice president of sales and Mark Ivins to controller.
Search Optics has announced the hiring of Kenny Rosenberg as a graphics designer and Jennifer Bradley as a marketing director. Rosenberg will be responsible for the creation and design of clients' Web sites. Bradley has three years of experience in the Web marketing industry and graduated with a bachelor's degree in marketing.
Real Estate
NAI San Diego has appointed Vince Provenzano as managing director of brokerage services. Previously, Provenzano served as president of Award Commercial Properties for 15 years. In his new position, he will be responsible for managing sales strategies, training and recruiting new staff and developing national accounts.
MDA DataQuick has hired Greg Deskin as vice president of sales. In this position, he will be responsible for growing the company's client base by developing and executing sales operations and client-aimed strategies.
Technology
Clay Chaffee has been named technical operations manager for CnP Systems. Chaffee has 10 years of computer repair experience. He will be responsible for managing computer system functions, repair and local networks.
SeQual Technologies has named Adrian Knight director of sales for North and South America. He will be responsible for general management operations within the Americas, as well as sales team leadership and increasing revenue for the company.
, Molly Pappas