News In Brief
Monday, June 1, 2009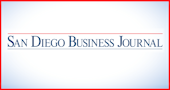 Jobless Rate Posts Springtime Decline
San Diego County? unemployment rate dropped for the first time in a year during April to 9.1 percent from March when it was at 9.5 percent, according to the May 22 monthly report from the state? Employment Development Department.
?Mike Allen
???p>USD Economic Index Enjoys Small Rise in April
An index measuring the overall health of the region? economy rose by two-tenths of a percent in April, breaking a string of 24 consecutive months of decline.
Four of six components in the University of San Diego? Index of Leading Economic Indicators, which was released May 28, showed gains during the month, causing the rise.
But the economics professor who compiles the data said observers need to exercise caution.
?ince economists typically look for three consecutive moves in one direction for a leading index to signal a turning point, it remains to be seen if a turnaround is in sight,?said USD? Alan Gin.
The four components that increased were building permits, stock prices of local public companies, consumer confidence and the national outlook on the economy. Those gains were offset by big declines in the amount of help wanted ad lineage and new claims for unemployment insurance (measured as a negative).
Gin said a jump in consumer confidence above the rate in March (which declined from the prior month by 3.27 percent) marked the largest one-month turnaround ever recorded by any component in the index, and ended a string of 23 consecutive months of decreases. Consumer confidence increased by
2.78 percent.
The key to turning things around is moving from increased confidence to actual consumer purchases, particularly of big-ticket items like houses and cars, Gin said.
Yet even if a bottom is reached later this year, Gin said the rebound will likely be weak. ?ndeed, there could be a significant period where the local economy remains flat after reaching that bottom,?he said.
?Mike Allen
???p>Vical to Sell $20M of Stock and Options
San Diego-based vaccine technology company Vical, which recently teamed up with U.S. Navy biomedical researchers in San Diego to test an H1N1 swine flu vaccine, said May 26 that three leading institutional investors have committed $20 million in the form of private stock and options purchases.
New York-based Special Situations Funds, which agreed to a $4.6 million stock and options deal, was added to prior commitments from Pittsburgh-based Federated Kaufmann Fund and another unidentified institutional investor.
Vical said it expects to gain $18.9 million in net proceeds from the offering after it deducts agent fees and other offering expenses.
Vical stock trades on the Nasdaq as VICL. Its price has ranged from $1.04 to $4.09 over the past 52 weeks.
?Heather Chambers
???p>?ali Baja?Brand Unveiled
Business development leaders from both sides of the border rolled out a new branding campaign May 21 as a better way to market the combined San Diego-Tijuana region.
The new brand aimed at attracting new corporate investment is called ?ali Baja, a binational mega-region.?The brand comes with the tagline, ?nvest. Innovate. Grow,?and its own logo.
The cost for the branding and marketing campaign was less than $50,000. The program was an outgrowth of a $225,000 federal grant from the Department of Commerce to the San Diego and Imperial Valley economic development corporations to figure out how to better capitalize on the region? assets and maximize its marketing position, according to the San Diego EDC.
The federal grant was matched by $90,000 from a group of private corporations and several local public agencies.
Christina Luhn, the project director for the San Diego EDC, said most of the funds were spent on research for a 300-page report sent to the Department of Commerce, and the gathering of the various groups and individuals to obtain this research.
?Mike Allen
???p>BakBone Software Seals Deal With ColdSpark
San Diego-based BakBone Software, which makes data backup and recovery products, completed its merger of ColdSpark May 27 with the issuance of $7.8 million of common shares to the Colorado company, according to a regulatory filing with the Securities and Exchange Commission.
BakBone acquired ColdSpark, an enterprise e-mail infrastructure platform, for $15.9 million ?including $8.125 million in cash paid over three years and 18 million common shares, which are valued at $7.8 million.
BakBone CEO James Johnson said the acquisition gives the San Diego company an entr? into the rapidly growing enterprise message management market.
Bakbone is traded on the pink sheets as BKBO.
?Ned Randolph
???p>Ophthonix Secures $25.9M In Venture Funding
The Vista ophthalmology company Ophthonix said May 26 that it raised $25.9 million in venture capital money to continue the launch of its iZon high-resolution lenses for eyeglasses.
?Ned Randolph
???p>Retail District? Cow Caper Ends Happily
Cowabunga, the stolen cow? been returned.
That? the life-sized fiberglass cow that was stolen from La Jolla? Girard Avenue about a month ago.
Organizers of a charity art show/fundraiser involving the bovine art pieces said May 27 that someone returned the cow to its site outside a hair salon sometime early that morning.
The cow is one of 40 on display that will be auctioned off July 11 to raise funds for the Rady Children? Hospital and the San Diego Zoological Society.
The cow created by San Diego artist Werc Alvarez is expected to fetch between $5,000 and $10,000 at the auction.
No word on who the nasty cownappers are, but we suspect they finally realized the udder of their ways.
?Mike Allen