Sempra Energy Sees Profits, Revenues Decline
Friday, July 31, 2009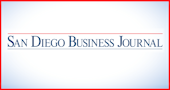 Sempra Energy said July 31 that it had second-quarter earnings of $198 million on revenue of $1.7 billion. During the second quarter of 2008, the utility and energy services corporation reported earnings of $244 million on revenue of $2.5 billion.
It reiterated its forecast that it would reach earnings per share of $4.35 to $4.60 by the end of the year.
Shares, traded on the New York Stock Exchange as SRE, were changing hands at $52.12 at midday July 31, down 40 cents from the previous day's closing price. The stock's 52-week range was $34.29 to $58.99.
During the second quarter, the business took an asset write-off of $64 million at its Sempra Pipelines and Storage unit.
Sempra's most visible units in Southern California are its San Diego Gas & Electric and Southern California Gas utilities.
It reported that, on July 30, it began commercial operations at its new Cameron liquefied natural gas terminal in Louisiana. It said the eastern portion of its Rockies Express pipeline, stretching from Ohio to Missouri, began operation in June. Sempra said it expects to complete the 1,700-mile pipeline in November.
, Brad Graves