Pentagon Spent $14.7B Locally in 2007
Friday, July 31, 2009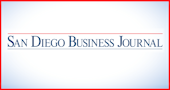 Fast-growing military spending has countered the recession's pull on San Diego County, says a study released July 28 by a local think tank.
The departments of Defense and Veterans Affairs poured $14.7 billion into San Diego County in the fiscal year that ended in September 2007, according to the National University System Institute for Policy Research. That is up from $13.5 billion in 2006 and $8.4 billion in 2001.
Multiplier effects give that spending more punch. Applying a common federal government multiplier shows the $14.7 billion in defense expenditures translates to $22.3 billion in economic impact.
The institute says 475,000 of the region's jobs are tied at least indirectly to military spending.
It also estimates that military spending grew 22 percent in 2008, and that 2009 spending will at least match last year's numbers.
Roughly half of the $13.7 billion in 2007 Pentagon spending , some $7.1 billion , went to defense contractors. Los Angeles County received $11.6 billion in procurement in the same year, while Orange County received $2.9 billion.
Procurement contracts rose 24 percent from 2006. Since the start of the decade in 2001, the figure has risen 147 percent.
Authors note three companies , Science Applications International, General Dynamics Nassco and General Atomics , account for 7 percent of San Diego's entire economy. During fiscal 2008, SAIC performed $3 billion worth of contracts, Nassco had $1.9 billion and GA had $1 billion.
The study says the Pentagon plans to spend $5 billion on construction at area bases. It does not say when all construction would be complete.
Authors also highlight a hidden asset: military retirees. In 2007, the Department of Defense sent $1.02 billion here in the form of retirement and disability payments, while the Department of Veterans Affairs sent $1.09 billion.
The institute's full report is available online at www.nusinstitute.org. Click on the tab that says Economic Ledger. Click "View All Issues." Choose the July 2009 issue.
, Brad Graves