Lindbergh Spreads Word on Facebook, Twitter
Thursday, July 30, 2009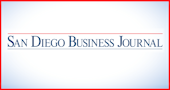 The agency that operates Lindbergh Field is reaching out to more folks via two of the most popular social media sites, Facebook and Twitter, to let them know all about what the nation's busiest single-runway airport is up to.
Specifically, the San Diego County Regional Airport Authority wants to increase the awareness on its $1 billion improvement project it calls "The Green Build."
The airport's Facebook page presents construction updates about the project that includes adding 10 gates to Lindbergh's Terminal 2, an elevated roadway to the terminal and a new jet parking area. Computer users can view the page at http://companies.to/sandiegoairport.
The airport is also tweeting on Twitter about the same project and other news concerning Lindbergh. Twitter users can get updates at @SanDiegoAirport.
Thella Bowens, chief executive for the airport authority, said using the two social media sites enables the agency "to connect with new audiences and demographics , people we may not have reached as well in the past through our traditional methods of communication."
, Mike Allen