Getting the Green Light
Monday, July 13, 2009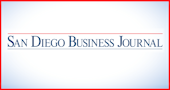 The recession has taken a toll on nearly every enterprise, but those involved in infrastructure projects may be faring a bit better than most.
McCain, a Vista provider of traffic signal equipment and control systems, had record sales last year of $85 million. This year, it's looking at hitting $100 million.
"In recessionary periods, the traffic industry over the last 30 years that I've been in it, that's normally some of the better years because government (agencies) will typically have a tendency to stimulate the economy by putting more money into infrastructure," said Jeffrey McCain, the manufacturer's president and founder.
As road projects get moving, traffic signals are usually part of the picture, but McCain does more than signal lights. Cabinets that contain all the wiring and controlling mechanisms for the signals, signage, poles and cables are among its hundreds of products.
McCain's main customers are general contractors responsible for erecting the signals at street intersections, but the ultimate customers are the cities, counties and state transportation departments that have to maintain the systems.
"A lot of times after a sale is made you won't hear from a company, but McCain has been good about responding to different concerns we've had," said Trev Holman, traffic engineer for the city of El Cajon. Holman says McCain's equipment is likely placed in 55 of the city's intersections, or half the total.
McCain launched the business in 1987 after getting frustrated in his dealings with suppliers for the signals when he ran an electrical contracting business previously operated by his parents. The service he received from some suppliers was uneven at best, and made his job that much more difficult, McCain says.
After researching the field, McCain decided he'd shift gears, and create a business that specialized in supplying all the products necessary for traffic intersections.
Having that background as an electrical contractor has been the key to making the business successful, McCain says.
Putting Customers First
"One of my business philosophies is to be an outside/in company, which means that you find out what a customer wants and needs, and try to fulfill that," said McCain, whose business has offices in Houston, Oregon, Sacramento and Seattle, and an extensive network of distributors.
Growing annually, McCain estimates that its products are found at 50,000 intersections in 12 nations.
The most complex part of the traffic signals are software-driven controllers inside the metal cabinets found on one of the corners of every intersection that uses electronic traffic signals. An average cost for an entire traffic control system is $100,000, McCain says.
McCain says the company is constantly re-evaluating how it does things, looking for new solutions and ways of improving. A few years ago, the business developed an answer to an escalating rise in the theft of copper wires from road lighting systems when the price for copper skyrocketed.
Thieves would pull out the underground wires from the electrical boxes by tying the copper wires to a truck bumper and yanking them out, leaving intersections dark and disabling the signals.
To block the wire thefts, McCain's workers created a steel pull box insert that allows only authorized access to the wiring. So good are the patented inserts that the California Department of Transportation recently referred to the product in some of its procurement contracts, requiring that contractors use "a McCain vandal-proof pull box or an approved equal," McCain said.
Tijuana Manufacturing
The business made a big shift in 1998 when it moved its manufacturing to Tijuana, initially using an outsourcing company to operate the plant. But the quality wasn't up to his standards, and after six months, McCain set up his own plant.
The Tijuana plant has a staff that fluctuates between 350 and 400 workers, depending on the work flow. Recently, the plant began manufacturing parts for other companies, and the growth of that segment has been rapid, McCain says.
About 120 employees work in Vista at a facility that contains its design, engineering, testing, sales and marketing, and inventory functions.
McCain's newest product fits well with the current trend in reducing energy use, and saving time for drivers. It's a parking guidance system that allows drivers to use either on-board or hand-held computers to locate where parking spots can be found at nearby garages or lots. Once inside a garage, drivers are directed to open spaces through a series of green lights.
Called iPark, the system is aimed at making garages for airports or large buildings more efficient, and cutting down on the time spent looking for an open parking space, McCain says.
"At any given time in most downtowns, about a third of the traffic is looking for a place to park," he said. "We've got it developed and are now selling it. It takes about a year before we'll see any sales because people have to evaluate it, see how it works, and then get the money to buy it."