$1B Airport Project Under Way
Monday, July 13, 2009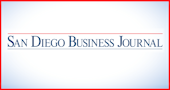 The agency that operates Lindbergh Field launched its own stimulus plan with $1 billion in capital improvements to its far western terminal, a project that broke ground last week.
A fact sheet for the project shows a cost of $865 million, but after financing costs are added, the total will exceed $1 billion, says Vernon Evans, chief financial officer for the San Diego County Regional Airport Authority. The agency plans to issue $860 million in revenue bonds next year, with annual payments coming from airline and passenger-ticket fees, and federal grants.

The project's main elements are adding 10 gates to Terminal 2, bringing the total to 51; building a dual level roadway intended to speed arrivals and departures; and creating a parking apron next to the terminal for aircraft that now park north of the runway and are moved in the morning.
Prime contractors are Turner Construction and Kiewit.
A proposed five-story, 3,700-space parking garage was put on hold last year as part of an agreement among the airport authority, city of San Diego and San Diego Association of Governments, a planning agency that represents the county and its 18 cities.
That agreement was hammered out last year after Mayor Jerry Sanders and other officials objected to the agency's going ahead with its long-delayed terminal improvement plan because they wanted to shift the terminals and other operations to north of the airport's single runway.
The authority agreed to conduct a yearlong review into the airport's reconfiguration, which, if fully adopted, would have cost $6 billion.
Even without the parking garage, this will be the largest capital improvement project in Lindbergh's 81-year history.
Two years ago, airport officials estimated that the terminal improvement program would cost $650 million, but the ever-increasing cost for materials, particularly steel, has pushed the price up.
The airport authority delayed the project in 2006 while conducting a search for a new airport site that culminated in selecting part of Marine Corps Air Station Miramar as the best location. Yet 62 percent of the county's voters rejected that selection.
Thella Bowens, the airport's chief executive, says the new name for the terminal improvement program is The Green Build, not only to underscore the project's elements that conserve energy and water usage, but the economic impacts the project will have in the region, too.
"This reflects our ability to bring lots of greenbacks to the area with all the jobs that this project will be creating," she said, referring to 1,000 construction jobs and other jobs the expanded facility will likely generate.
Bowens cites a recent study done for the airport that showed for every job at the airport, four to seven are supported elsewhere in the county.
Work on the project is under way with the cleanup of the area serving as overnight aircraft parking.