Number of Hotel Foreclosures, Defaults Increasing
Monday, July 6, 2009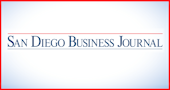 The number of California hotels that are in default on their loans or have gone into foreclosure has jumped a whopping 125 percent in the past 60 days.
There were 32 properties in foreclosure and 174 in default, according to a June 28 report by Atlas Hospitality Group, a regional brokerage based in Irvine.
San Diego County, which has five foreclosures , three hotels and two hotel building sites , tied with Riverside County for second place. San Bernardino County holds the dubious first-place distinction, with six foreclosures.
On the local list are the 46-room Pacific Coast Inn in Pacific Beach; 20-room El Camino Motel in Imperial Beach, which is now closed; 11-room Harbor House Inn on Hawthorn Street; and two building sites, one for the proposed 320-room Cosmopolitan Hotel downtown and another for the proposed 69-room Mt. Woodson Golf Resort in Ramona.
13 Defaults
In the category of hotels in default, San Diego County, which has 13, ranks third statewide. Not all have received public notices as yet, so their names can't be divulged.
But local properties that have been notified publicly include: the 19-room C Street Inn downtown; and three Extended Stay America hotels , one with 166 rooms in Hotel Circle, another with 107 rooms in Kearny Mesa, and one in Carlsbad with 106 rooms. South Carolina-based Extended Stay Hotels filed for Chapter 11 bankruptcy protection in mid-June.
Also in June, Sunstone Hotel Investors of San Clemente threw in the towel on the high-profile, 258-room W San Diego hotel. Sunstone is a real estate investment trust listed on the New York Stock Exchange under the symbol SHO. Shares closed at $5.35 on June 30 and the 52-week range was $1.87 to $16.77 as of that date.
Including the W, the REIT owns seven hotels in the county, including the Del Mar Hilton and Del Mar Marriott. In all, it owns 43 hotels.
Sunstone paid $96 million to acquire the W in 2006 at the peak of the market when the county's hotel industry was considered the darling of Wall Street.
Between 2005 and 2008, 282 hotels changed hands for prices ranging between $2 million for a small inn in Fallbrook to $100 million for a 330-room La Jolla hotel, said Alan Reay, the report's author and founder of Atlas Hospitality.
Nonetheless, San Diego County trails San Bernardino County, which ranks second in the number of hotels in default with 17, and Los Angeles County, which counts 21.
Statewide, non-franchised hotels account for a disproportionate number, or 87 percent, of foreclosures. But that could change, since franchised hotels make up 59 percent of defaulted properties, Reay said.
Greater Impact
"Initially the wave of distress in California was seen by the smaller, non-flagged hotels in secondary and tertiary markets," he said, referring to areas east of the coastline that aren't considered top vacation spots.
Within the last two months, "as the hotel economy worsened, we have seen it impact all property types," he added.
In reviewing hotels in default or foreclosure, Reay said his brokerage found that 75 percent of the loans originated between 2005 and 2007.
During that period, lenders were aggressive, underwriting hotels with the "same high loan to value that we saw in the housing market," he said.
Now, many properties, including those in San Diego, are buckling under debt as travelers tighten their purse strings and revenue dries up in the recession.
According to recent surveys by Smith Travel Research of Tennessee, which keeps tabs on lodging industry statistics nationwide, California's hotels have seen a 20 percent to 30 percent decline in revenue compared with a year ago.
"Depending on the product type, we estimate that values are currently 50 percent to 80 percent lower than at the market's peak," Reay said. "The bright spot is that this is going to be the best buying opportunity since the Great Depression."