Martial Arts Industry Growing in Popularity
Monday, July 6, 2009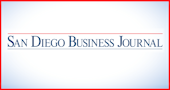 By MARION WEBB
After years of battling hyperactivity with prescription drugs and suffering the side-effects, 12-year-old Christopher Cronj & #233; is now using his own body to attack the disorder.
He's joined a martial arts studio. It's been the best medicine to combat ADHD.
"Since he's been doing taekwondo, Christopher's ability to focus has vastly improved to the extent that he is involved in the club's leadership program," said his father, Johan Cronj & #233;, who lives in Torrey Highlands.
He's also observed that his son has become more disciplined, respectful and more confident.
Darby Darrow, a San Diego Special Weapons and Tactics, or SWAT, officer and owner of the Rockpile Dojo martial arts studio in Poway, also believes in the healing ability of martial arts.
The 30-year veteran instructor of Kenpo karate, which uses kicks and strikes, and Brazilian jiujitsu, grappling and ground-fighting, considers his "dojo," or training hall, a place to learn self-defense as well as spiritual enlightenment.
"I have always looked at martial arts as having physical prowess, but the mental aspect is as important," Darrow said. He added, "I use my martial arts every day on the force."
He is in good company. Asian martial arts studios now outnumber Dunkin' Donuts outlets three to one, according to The New York Times.
Black Belt magazine reports 200,000 in business nationwide with an estimated 2 million Americans practicing various disciplines.
Darrow is among many active-duty cops who also run martial arts studios. He'll soon rank among the retired officers who teach martial arts in their second careers.
Chris Cross, an instructor for the county Sheriff's Department, said former officers have a better understanding of tactics and force options than martial arts instructors without a law enforcement background.
Cross says he encourages new graduates to turn to these studio owners for ongoing training.
In California, graduates of local police academies are required to complete 24 hours of skills training, including self-defense tactics, every two years.
Darrow trains 25 students , a mix of police officers as well as children and adults from the nearby community , out of a converted 400-square-foot garage.
Though he only trains students he knows personally or referred by clients, he has no shortage of clients.
He charges $110 for one month or six classes a week. With no paid employees, Darrow says he generates more than $30,000 in sales.
For Ray Seraile, owner of the Undisputed Fitness and Training Center in El Cajon, business is also booming.
Since opening in May 2008, Seraile says he has recruited 400 clients, including 30 firefighters, police officers and emergency services technicians.
Startup Capital
Bill Crawford, who owns the rights to five undisputed gyms in downtown San Diego, El Cajon, North Park, Point Loma, and Tucson, Ariz., said the startup cost is $80,000 per gym.
Prior instructor experience with Crawford and former or current professional competitive fighter status is required.
Seraile himself is a professional mixed-martial-arts competitor, grappling coach and referee.
Each gym employs four full-time instructors trained in kickboxing, boxing, juijitsu and fitness. The cost is $65 a month for unlimited training.
Crawford says the average gym generates $400,000 in annual sales.
For Darrow, running a martial arts business is part of his lifestyle.
When asked how his martial arts training has helped him in his longtime career in law enforcement, starting as a patrol officer from 1986 to 1993 and then SWAT officer, Darrow gave a diplomatic answer: "Knowing self-defense has always worked well for me."
Marion Webb is a freelance writer for the Business Journal.