Northrop's Global Hawk Gets Work in the Sciences
Monday, January 26, 2009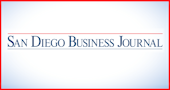 A warhorse is turning into a workhorse.
The U.S. government is planning to send a specially equipped Global Hawk spy aircraft aloft in the spring, this time in the interest of science.
NASA and the National Oceanic and Atmospheric Administration are dispatching the high-flying robot plane on some of its first nonmilitary missions. Global Hawk surveyed Southern California wildfires in 2007 and 2008.
NASA has two Global Hawk aircraft, which are hand-me-downs from the Pentagon. They are among the first Global Hawk aircraft turned out by Northrop Grumman under a Pentagon advanced technology program.
Though the Los Angeles-based defense contractor builds the aircraft in Palmdale, it does significant work on it in San Diego.
Northrop Grumman had 4,190 local employees as of March to rank No. 2 behind General Dynamics Nassco (4,700 workers) on the Business Journal's most recent list of the county's largest defense contractors.
NASA says it will fly six long-duration missions over the Pacific and Arctic regions in the spring and summer. Equipment on board will collect atmospheric data.
Northrop Grumman also gets future use of the aircraft, NASA says. The company will be able to conduct its own flight demonstrations for expanded markets, missions and airborne capabilities.
The Global Hawk is 13-ton machine with a 116-foot wingspan. It can lift 2,000 pounds of equipment to 65,000 feet and stay there for more than 31 hours.
But it's not typical of unmanned aerial vehicles, or UAVs. The aircraft come in all sizes, including hand-held models.
Visiongain, a British publisher, reports countries are looking for a greater variety of UAVs for both military and civilian use. "The global appetite for UAVs shows no signs of abating," the publisher said in a May 2008 report.
The report pegged this year's global market for UAVs at $7.2 billion.
In June, executives with Northrop and another San Diego UAV maker, General Atomics Aeronautical Systems, talked of civil government or industrial uses for the aircraft. People could send UAVs to remote areas to inspect pipelines, power lines and fisheries.
Northrop says such aircraft can monitor hurricanes.
A NASA scientist told the Business Journal in June that civil government missions can be costly, but a Northrop executive said vendors might consider charging by the hour.
A Pentagon report once summed up the unmanned aircraft as useful for three types of missions: the dull, the dirty and the dangerous.