Lights, Cameras, But Little Action in Local Film Industry
Monday, January 26, 2009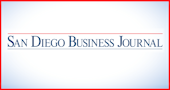 As Hollywood goes, so goes San Diego's fledgling film industry.
At least that's how it's been in the past, since the big studios opted for San Diego as an alternative offering a variety of location sites and hassle-free permitting compared to the red tape they have to go through in Los Angeles, says Cathy Anderson, CEO of the San Diego Film Commission.
However, since the Screen Actors Guild, the union that represents actors, may strike, the trickledown effect of Hollywood production work has all but dried up.

As of press time, board members and executives of the SAG were divided over whether to call a strike vote. But the studios are reluctant to fund pilots and production only to lose that money in the event a strike does occur, Anderson explained.
"Even though there is no strike, there might as well be because everything is frozen," she said. "Nothing is on the docket as everyone holds their breath and waits."
For the year ending June 30, direct spending from television, feature films, commercials and other productions, such as corporate videos, was $42.3 million locally.
Biggest Slice
TV series made up the biggest slice of the pie , $28.6 million , and fiscal 2009 was shaping up to be about the same before CBS pulled the plug on a romantic drama in production here, "The Ex-List," in late October and the possibility of the SAG strike loomed.

Direct spending includes salaries for local talent and crews, money spent on goods and supplies, dining and hotel accommodations. During fiscal 2008, the film commission tabulated 2,677 production days and 16,622 nightly hotel room stays for out-of-town crews.
Work at local studios, such as Stu Segall Productions in Kearny Mesa, is counted in the tally.
Aside from marketing to film studios, production houses and TV stations, the film commission helps scout locations, obtain permits for filming and secure lodging and supplies once here.
Anderson says a new marketing strategy is to lure more independent filmmakers and advertisers filming commercials.
San Diego is popular in the wintertime with fashion retailers in need of a summer-like backdrop for their spring and summer catalog shoots.
"We get a lot of print," Anderson said. "We do fashion catalog shoots, including Draper's & Damon's, Lands' End, Eddie Bauer and Macy's. Macy's is here now."
Meanwhile, reality TV shows, which don't use actors, continue in abundance.
"Addicted to Beauty," a new series focusing on plastic surgery, is in production in La Jolla, and Style Network is filming a segment of "Clean House," devoted to housecleaning tips, in Lakeside, Rancho Bernardo and Fallbrook.
Budget Sources
The film commission's budget for 2009 is $816,000, of which $660,000 comes from the Tourism Marketing District that assesses hotels to raise money to increase tourism.
The San Diego Unified Port District and the county provided $70,000 and $40,000, respectively, and the TMD recently added $46,000 to help with marketing.
Yet as John DeBello, who heads Loma Media points out, the problem San Diego and other California cities, including Los Angeles, face is that other cities and other nations all "want a piece of the motion picture business."
"They offer significant financial incentives," DeBello said. "Just the fact that there's the Hollywood sign does not guarantee that California will continue to be No. 1 in the film business."
Joan Etchells, vice president of Stu Segall Productions, said California is one of just a handful of states that don't offer tax rebates for film production spending.
According to a chart by the California Film Commission, Arizona and Connecticut offer tax credits of 30 percent on projects of $1 million or more.
"It puts us at a huge disadvantage and we're losing shows, not just San Diego but L.A. as well," Etchells said. "San Diego is a beautiful city with great places to shoot, and we're competing with cities that don't have the class or different types of locations. But the production costs in other cities are hundreds of thousands less.
"Personally, in a year's time, I do a hundred budget projections and almost all of the productions end up in Louisiana, New York, Michigan and Canada. It makes it very tough to compete."