San Diego People
Monday, January 19, 2009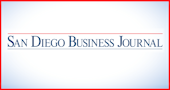 Sunita Cooke has joined the boards of directors for the East County YMCA and San Diego East County Chamber of Commerce.
Cooke is president of Grossmont College in El Cajon. Previously, she was employed for 12 years with North Harris Montgomery Community College District in Texas, where she was associate vice chancellor and professor of biology. Cooke is a graduate of Georgetown University.
BANKING AND FINANCE
Union Bank has named Joseph Benoit head of its small-business banking group. He has worked with the bank for 16 years and will be responsible for sales activity, service and support.

EDUCATION
The Southwestern Community College District Governing Board has named Michael Kerns vice president of human resources and Angelica Suarez vice president of student affairs. Kerns holds degrees from University of the Pacific and San Jose State University. Suarez has 20 years' experience working in community college programs in San Diego, Los Angeles and Chicago.
Palomar College has selected Norma Miyamoto dean of the division of arts, media, business and computing systems. She had been serving as interim dean since June 2007. She is responsible for six academic departments and has served as an administrator at the college for 12 years.
GOVERNMENT AND NONPROFIT
Gregg Cantor has been elected to serve on the Council of Better Business Bureaus' board of directors, the parent organization for the Better Business Bureau. Cantor is president and CEO of Murray Lampert Construction.
The California Health Institute has appointed Holly Frisque office manager at its La Jolla headquarters. She previously worked in the software development industry and is the founder of Shared Online Human Resources Community. Frisque is a graduate of UC Riverside.
HEALTH CARE
The board of directors for the Grossmont Healthcare District has elected Jim Stieringer president, Gloria Chadwick vice president, Michael Emerson treasurer and Deborah McElravy secretary. Stieringer is a retired government contractor and has served on the board since 1992. Chadwick has served on the board for 10 years and has worked in health care for 44 years. Emerson owns Hart Optical and is a resident of La Mesa. McElravy is a pharmacy manager and rejoined the board in 2006 after serving from 2002 to 2004.
Amir Hajimirsadeghi has joined Sharp Rees-Stealy Medical Group's practice of podiatry at its Rancho Bernardo location. He completed his residency at Scripps Mercy Hospital and received his medical degree from Temple University School of Medicine in Philadelphia. Edward Greene has joined the Internal Medicine Department at Sharp Rees-Stealy Otay Ranch.
LAW
Luce Forward has elected Jeffrey Feasby and Anthony Nash partners. Feasby is a member of the Business/Complex Litigation group and his practice focuses on defending clients in complex civil litigation trials, including securities, unfair competition and real estate disclosure and defect cases. Nash earned his law degree from UC Hastings College of the Law and is part of the firm's real estate litigation team.
REAL ESTATE
Stewart National Title Services has appointed Allan Wasserman to senior vice president of national business development. He possesses 30 years of experience in the title industry and is an alumnus of San Diego State University. Additionally, Wasserman is a Board of Governors member for the California Land Title Association.
TECHNOLOGY
Entropic Communications has named Vinay Gokhale senior vice president of marketing and business development. She has 20 years' experience in marketing and engineering management and most recently worked at Conexant Systems, where she led projects for product development and strategic planning.
, Cassandra Dump