Illumina Helps Shed Light on Giant Panda
Monday, January 19, 2009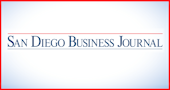 Using genetic analysis tools made by San Diego-based Illumina, China's Beijing Genomics Institute in Shenzhen announced last week that it had mapped the entire genetic code for the giant panda.
Oliver Ryder, associate director of genetics at the San Diego Zoo's Conservation and Research for Endangered Species program, says the advances will enable more detailed studies of panda populations in the wild.
It took one month for a small team of scientists to sequence the panda's genome using Illumina technology.
- - -
New Frontiers For Medtronic: Medical device giant Medtronic will add a local company to its portfolio of treatments for abnormal heart rhythm.
Medtronic said Jan. 12 that it plans to acquire privately held Ablation Frontiers of Carlsbad in a deal valued at more than $225 million. Ablation has been developing a device for treating atrial fibrillation using what it calls a "radiofrequency energy system." The device gained marketing approvals in the European Union in 2006, and the company said it would seek U.S. approvals following an upcoming clinical trial.
The transaction, subject to regulatory approvals, would give Medtronic another asset in its portfolio of companies focused on safer, simpler and more effective ways for treating atrial fibrillation, an irregular quivering or rapid heart rhythm affecting 3 million Americans and 7 million people worldwide. Medtronic says it plans to combine Ablation with another recent acquisition, CryoCath Technologies, which developed a method for treating heart arrhythmias by freezing aberrant heart cells.
The transaction is expected to close by April.
- - -
No Thanks: Sequenom, a San Diego genetics test maker, offered to buy Exact Sciences on Jan. 9 in an all-stock deal valued at $41 million. But Exact Sciences rebuffed the offer Jan. 13, saying it would seek additional bids that promised better value for its shareholders.
In a brief statement, Exact Sciences said it was pursuing a "strategic alternative" that its board feels offers more for the company.
The Sequenom deal valued shares of Exact Sciences at $1.50, representing a 51 percent premium over their value at that time.
The Massachusetts-based company owns a technology that allows doctors to identify colon cancer from genetic markers in a patient's stool. But the company has struggled to sell the test, marketed by diagnostics firm LabCorp, and it has seen its stock drop from $3 a year ago to about $1.
Sequenom executives say the acquisition would allow them to expand into noninvasive genetic cancer screening.
- - -
NuVasive's Deal: San Diego spinal device maker NuVasive entered into an agreement with a Netherlands biotech that will allow it to expand its offering of bone graft products to surgeons.
NuVasive said Jan. 13 that it will invest $15 million in cash upfront, with the obligation to purchase the company for $45 million after certain milestones are met. It could also pay an additional $25 million in royalties to the company, called Progentix Orthobiology.
Send biotechnology news to Heather Chambers, hchambers@sdbj.com, or call her at 858-277-6359.