San Diego People
Monday, January 12, 2009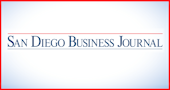 Bill Murphy has joined Barney & Barney, an insurance brokerage, as principal. Murphy will serve as director of sales in the Employee Benefits Department.
He has 25 years of experience in underwriting, sales and sales management in health and welfare, and was formerly senior marketing manager at an insurance underwriter, Unum. He also previously held positions with MetLife, Reliance Standard and Cigna. Murphy graduated from the University of Georgia with a degree in economics.
CONSTRUCTION AND DESIGN
Bruce Winer has joined PCL Construction as business development manager. Winer has 27 years' experience and will be responsible for marketing and forming strategic alliances. Alicia Provenza will serve as marketing coordinator for PCL. She has four years of experience in marketing and electronic publication.
GOVERNMENT AND NONPROFIT
Mingei International Museum in Balboa Park has hired Alan Strang as chief financial officer. Strang recently retired as business manager from Capitol County Children's Collaborative in New Jersey. Heather Barnes has been named development coordinator. Barnes has an extensive background in marketing and donor relations for nonprofit organizations. Additionally, Johanna Saretzki will serve as the museum's marketing and diversity coordinator. Most recently, she worked with the San Diego Natural History Museum in outreach and marketing.
The Downtown San Diego Partnership, a business advocacy group, has appointed Shirley Horton to president. Horton previously served for six years on the Chula Vista Planning Commission and the Chula Vista City Council. She has served as mayor of Chula Vista and was an assemblywoman for California's 78th District from 2002 to 2008.
The San Diego Futures Foundation has hired Rodney Sackett as vice president of professional services within the nonprofit's technical services team. He specializes in the development and implementation of technology solutions to solve operational concerns for clients.
HEALTH CARE AND BIOTECH
Palomar Pomerado Health Foundation has hired Terence Green as chief fundraising officer. Green possesses 25 years' experience in health care fundraising and philanthropy. Most recently, Green was associate vice president for the Children's Hospital of Los Angeles Foundation, raising $120 million in his 12 years there.
Illumina has appointed Mark Lewis to senior vice president of development. He will oversee global product development efforts. Lewis has 15 years of experience in the biotech industry and holds a degree from UC San Diego.
Molina Healthcare of California has hired Michael Owens as regional medical director for San Diego. Owens has 20 years' experience in medical management and earned his degree from the Yale School of Medicine.
LAW
Attorneys Bianca Garcia, Rodrigo Moriera and Ajay Shah have joined Marks, Golia & Finch. Garcia will practice in the areas of trusts and estates and business/commercial transactions. Moriera's practice focuses on construction law, business/commercial litigation and transactional law. Shah specializes in business litigation, construction law and real estate.
MEDIA AND MARKETING
Maya Ben-Yehuda will serve as public relations senior account executive for Bailey Gardiner. Her clientele focus will be in the hospitality and travel industries. Additionally, Mike Nevin has joined the firm as copywriter.
Bolt Public Relations has hired Carrie McDaniel as assistant account coordinator. McDaniel will assist in event planning and client relations.
Logo Expressions has named Sheryl O'Hara Jones and Sheryl Vallee account executives. O'Hara Jones and Vallee have experience in sales and marketing and will be responsible for maintaining client accounts.
REAL ESTATE
CB Richard Ellis has promoted Doug Works to first vice president. Works has been with the firm since 1998 and is ranked among the top brokers in the county based on leasing volume.
TOURISM
Legoland California Resort has hired Peter Ronchetti as general manager. He has 20 years of management experience and previously served as GM of Thorpe Park in England. Ronchetti succeeds John Jakobsen, now serving as managing director of Legoland Parks, who will be based out of Merlin Entertainments Group's headquarters in England. Merlin owns more than 50 attractions, including Legoland California and Thorpe Park.
, Compiled by Cassandra Dump