Hardware Device Secures Internet for Small Business, Home Users
Monday, January 12, 2009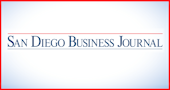 A local Internet security company appears to be bucking the downturn.
Phantom Technologies, started in 2003 by twin brothers Peter and Paul Martini, makes a relatively inexpensive piece of Internet security hardware for businesses and homes that blocks access to unwanted Web sites or applications.
In the past year, the company has grown to 20 from 13 employees.
The product, called the iBoss, filters access to the Internet and blocks users from using preselected categories of Web sites, including interactive sites that allow them to download files and play online games, according to the Martinis.
Thriving Industry
Internet security is a multi-billion-dollar industry that covers everything from data loss prevention to identity theft. It continues to grow with the ever expanding universe of Web-based lifestyles.
"It's one of the hottest areas in the U.S.," said Duane Roth, CEO of Connect, which tracks the high-tech industry in San Diego. "Cyber security in general has enormous interest, not only in our business communities, but research institutes and military defense. Things are getting hacked constantly."
The biggest local player in data security is Websense, a publicly traded company that offers software security solutions for commercial networks. Websense ranks No. 1 on the Business Journal's most recent Software Companies list with more than $200 million in annual revenues.
However, Websense is software-based, which the Martinis say requires installation on each network device and requires continuous updating. Software-based solutions also charge per device, they say.
The iBoss, on the other hand, can be plugged into any network. It is not software-based, and doesn't require software.
The Martinis claim their product and subscription service is more effective for small businesses, which are concerned mainly with keeping users from time-wasting Internet activities or viewing inappropriate content. It is also much less expensive than other hardware solutions, such as rack mounts, used by larger businesses.
"Small companies have no use for a thousand-dollar appliance," said Peter Martini, the firm's chief operating officer.
The iBoss sells for less than $500 to businesses, and under $100 to residential customers. The device for home requires a $59 annual subscription; and for business a $249.95 annual subscription.
The company does not reveal sales figures.
"Many businesses don't have managers , especially in this economy , who can sit on the network all day and monitor," he said.
"A lot of (retail) franchises are using it to filter Wi-Fi access, so there's no inappropriate surfing going on at restaurants or coffee shops," said Martini.
Tailor-Made
The network administrator can tailor the iBoss to filter all users or specific users on a network.
"It's a requirement for the Internet," said Martini. "You type in the wrong word, and you get some really bad sites."
The iBoss works by "sniffing" out the Web sites requested by a computer or network device. The iBoss identifies the Web site and decides whether the particular device on the network is allowed to access it.
Parents can use the device to protect their children. They can tailor access for each computer on the network.
"If a son or daughter has a friend come over with their laptop, you can block it all together or filter (it)," said Martini. "Think of all the (devices) on the network. You can nickname each one. That's the easiest way of deploying it."
All of Phantom Technologies' design and engineering work is based in San Diego.
The Martinis claim the business has 100,000 users for its device and subscription service. About 35 percent are small-business customers.
Peter Martini says his customer base includes those in retail, health care, government, financial services, law, as well as churches and schools.
"Our demand in December was our best since deployment," he said.