Home Prices, Resales Turn a Corner in December
Thursday, January 8, 2009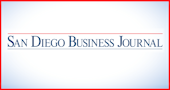 The median price of existing homes and condos ticked upward in December from the month before, the San Diego Association of Realtors reported Jan 8.
Citing figures provided by Sandicor's multiple listing services, the Realtors reported that median prices on houses sold in December increased 2.7 percent from the month before to $349,450. Median prices on attached condos sold in December likewise rose 2.6 percent to $200,000.
On the year, of course, median prices for all units sold were way down , by nearly 30 percent for houses and by nearly 36 percent for condos, figures show.
The number of units sold, however, rose by more than 60 percent on the year. There were 2,440 existing homes and condos sold in December, compared to 1,499 homes and condos sold in December 2007, the real estate organization reported.
Total sales volume for existing houses in December was $700.3 million, a 7.6 percent increase on the year and a 16.3 percent increase from November.
Total sales volume for existing condos in December was $216.9 million, a 9.4 percent increase on the year and 14.8 percent increase from November.
The association said it was hopeful that December's results indicate a bottom for the San Diego housing market.
"We are pleased to see that sales were up in December and we are optimistic that 2009 will bring a leveling out of the market for both buyers and sellers," Erik Weichelt, 2009 SDAR president, said in a statement. "There are many opportunities for buyers right now and we encourage consumers to consult a Realtor to determine if the market is right for them before making any decisions."
The MLS, however, does not include new home sales or homes not listed by real estate agents. Next week, the research firm MDA Dataquick will release its report on all sales that should provide a more complete picture.
, Ned Randolph