San Diego People
Monday, February 9, 2009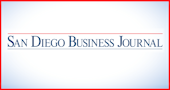 Executive Spotlight
Scott Warren
Scott Warren has joined Willis Allen Real Estate's Del Mar office as a Realtor. Warren has 32 years of experience as a
Realtor, has held his general contractor's B-1 license for 29 years, and founded Re/Max Distinctive Properties.
He and business partner Liz Molina closed $24 million in real estate sales in 2008. A San Diego resident and graduate of Cal State Northridge with a degree in science, Warren specializes in real estate trade transactions.
Banking and finance
U.S. Bank has promoted Erik Daniels to president of its Small Business Administration division from SBA division national sales manager. He has been with the financial institution for one year. The Cal State Polytechnic Pomona graduate has 17 years of industry experience.
Gary Anderson of West Coast Commercial Credit & Investments has joined the California Association of Business Brokers' 2009 board of directors. Anderson is a past president of the board.
Government and nonprofit
The Southeastern Economic Development Corp. has appointed Nancy Lytle to manager of projects and development. Lytle possesses 20 years' experience in city planning, redevelopment and management. Most recently, she was employed with the city of Chula Vista as assistant planning director.
The La Jolla Festival of the Arts has named its 2009 committee members. The panel features Ronn Rohe, James Hinkle, Robert Metz, Shelly Hall, Larry Burdt, Peter Ballantyne, Steven and Charlotte Goldstein, Don Ludwig, Marjorie Kirby, Cloti Simpelo, James Spievak and Will Rogers.
The San Diego Regional Chamber of Commerce has promoted three executives , Bill Holman to vice president of external affairs, Doug Holman to vice president of membership and corporate relations, and Angelika Villagrana to executive director of public policy.
Health care and Biotech
Amylin Pharmaceuticals has appointed Vincent P. Mihalik to senior vice president of sales and marketing and chief commercial officer. Mihalik brings 30 years of experience in global product development, sales and sales management, product launches and brand management. His career in pharmaceuticals has focused on diabetes.
Insurance
Intercare Insurance Solutions has hired Julie Beacock as principal and senior vice president. With 22 years' experience in benefits administration, sales and executive management, Beacock previously worked for Barney & Barney. She specializes in advising midsize to large clients with diverse insurance needs domestically and internationally.
Law
Klinedinst has named Gregor Hensrude shareholder. His practice focuses on individual and corporate litigation regarding malpractice suits. Additionally, he counsels startup clients in the areas of antitrust, contracts and intellectual property matters. He earned his law degree from the University of Washington School of Law and received his undergraduate degree from Western Washington University.
Procopio, Cory, Hargreaves & Savitch has named partners Craig Ramseyer and Michael Changaris to its management committee. Patrick Martin will serve as leader of the tax team and Richard Heller will lead the litigation team. Stephen Beuerle is departing the management committee to lead the intellectual property team.
Media and Marketing
Red Door Interactive has appointed Morgan Witt to the newly formed position of senior strategist. As part of the planning and optimization team, Witt will lead the agency's customer retention strategies for its clients.
miscellaneous
Ace Parking Management has named Brian Gansert president of operations. Gansert has been with Ace Parking for eight years and is now in charge of operations spanning from Seattle to Houston. He is based out of the business's downtown San Diego office.
Real Estate
The San Diego Building Owners & Managers Association has appointed Joy Cole of Jones Lang LaSalle to lead its 2009 board of directors. Cole previously served as board secretary and chairperson of the Community Service Committee, and participated on the Government Affairs Committee. Barbara Puccio of CB Richard Ellis has been elected vice president and will chair the Strategic Long-Range Planning Committee. Puccio previously served as a member-at-large and chairperson of the Special Events Committee. Brian Galligan of Kilroy Realty, previous member-at-large, has been elected secretary, and Jack Renshaw of General Coatings will serve his second term as treasurer. Craig McMahon of Kimball, Tirey & St. John will serve his third term as general counsel. The 2009 members-at-large are Barry Garson of J & M; Keystone, Mike Hansen of CB Richard Ellis, Kim Davis of Universal Protection Service, and Carrie Petro of CB Richard Ellis. Additionally, Ted Kimball of Kimball Tirey & St. John will advise the new board as immediate past president.
Technology
Nirvanix has appointed Joseph Lyons to vice president of sales. He has 20 years of experience in the sales and technology sectors. Lyons previously served as director of services sales for Brocade Communications Systems and global account manager at GlassHouse Technologies.
, Cassandra Dump