Internet Not to Blame for Crisis in Journalism
Monday, February 9, 2009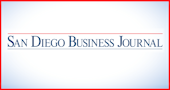 The news is not good, if you're in the news business these days.
Not a day goes by without cutbacks and layoffs, not to mention severe downsizing, in most areas of the media from big city daily newspapers to the traditional broadcast media.
Colleagues past and present have been sent to the unemployment lines, and some of those, being on the leading edge of the boomer generation, have simply retired from the profession.
What's happening?
Well, most everyone blames the Internet for much of the loss in business.
After all, the industry has been giving the news away on the Web for years.
But, I disagree.
The industry, especially print, has been shrinking for decades. In the 1920s, New York, for example, had more than a half-dozen newspapers. In an earlier age, newspaper racks, including those here in San Diego, as well as Los Angeles, Sacramento and San Francisco, were jammed with rival nameplates.
While recent economic forces have accelerated the process, I think something more pernicious is at fault.
And, as one editor pointed out, readers no longer reach for general interest newspapers, they head for the Internet when they want news.
'Grazing' For News
Instead of "reading," they "graze," going from site to site to site, picking up information in bits and pieces from a variety of sources.
Even radio and television news is giving way to the now ubiquitous BlackBerries and iPhones. Who would have thought just five years ago that a site like YouTube.com would become a major on-demand broadcast network?
Speaking of YouTube, have you noticed that few under 30 read print on paper?
This generation grew up with cell phones and computers, and considers print tantamount to Gutenberg's Bible. And who's this guy Gutenberg, anyway, they ask?
Meanwhile, I wonder about the journalism of tomorrow. What form does it take?
Many of the old-fashioned methods , and notions , of gathering, vetting and writing up the news, however it's delivered to your eyes and ears, appear to be disappearing.
The need for fast, accurate news gathering and reporting has rarely been greater, but newsrooms are cranking out less, not more, of what I call credible reporting.
Shoe leather and ample use of the phone have given way to searches on the Internet. Instead of pulling up a court document, we power up Google. And let me tell you, it ain't the same.
The process is critical when it comes to the importance of journalism to a functioning democracy like ours. Indeed, journalism is called the fourth branch of government because reporters and editors supply the free-flow of information necessary for the citizenry to stay informed and make informed decisions.
Not anymore. For example, reporters are a rare sight at many city council meetings these days. And fewer and fewer cover county government and state government, not to mention local agencies of the federal bureaucracy.
We'd have a virtual news blackout in Sacramento if we didn't have a Hollywood superstar serving as governor.
Limited Coverage
It's only because of Arnold Schwarzenegger that we have limited coverage of the capital. Otherwise, we'd probably be in the dark about the budget crisis.
Before I finish, let me say I am impressed with the quality of the reporting coming from some Web sites that have popped up. Locally based voiceofsandiego.org, for example, provides a source of general interest news and opinion that is as good as the competition, which, in this case, is The San Diego Union-Tribune. The U-T Web site is one of the best on the 'Net.
Of course, the editorial staff here at the Business Journal churns out a daily newsletter, which supplements our weekly coverage of local business news. We boast more than 28,000 subscribers to our e-mail newsletter, a number that is growing rapidly in large part because of the growing demand for economic news in a very turbulent economy.
We still crank out the news the old-fashioned way.
It's handcrafted, so to speak, not mass-produced. The Web is but one tool we use it's not the only source, and I don't think it ever will be.
We know how necessary it is to provide a focus for the local business environs, and to keep everyone informed about what's happening in that community.
Anyway, journalism's in transition, has been for decades, and will continue to be for who knows how many years more.
It will be interesting to see what the future holds for our particular industry.
Tom York is editor of the Business Journal.