Some Credit Unions Hurt By Losses
Monday, February 2, 2009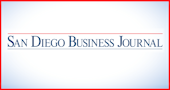 When it comes to lending, credit unions run a tight ship. For example, they shunned subprime mortgage lending, which caused banks to rack up record losses.
Yet, while the economy declined last year, even high-performing institutions found themselves dealing with rising numbers of delinquencies.
Four of the six largest local credit unions, plus a smattering of smaller institutions, showed net losses for 2008, led by a stunning $50.2 million net loss of North Island Credit Union, which observers speculate cost CEO Michael Maslak his job.
Jack Lewis, chairman of North Island's board, said Jan. 26 that Maslak, 60, retired and his departure is not connected to losses sustained by the lender.
NICU didn't issue a statement prior to his retiring Jan. 12, and named two executives, Chief Operating Officer Geri Dillingham and Chief Financial Officer Kim Reedy as co-interim CEOs.
"It may seem unusual, but it's very rational," Dillingham said. "We have a very collaborative management style and we work very well together."
NICU boosted its loan loss reserves to $57 million due to an increasing number of bad loans, which made up close to 2 percent of its portfolio.
First mortgages, second mortgages, or mostly home equity loans, and auto loans comprised most of the problem loans, said Reedy.
The losses cut into the credit union's capital base, reducing it to 6.46 percent, just above the 6 percent minimum required to be considered adequately capitalized.
As a result, NICU trimmed 50 workers from its payroll and took other measures to cut costs.
California Coast Credit Union, which merged with First Future Credit Union in September, reported a net loss of $24 million in 2008, due to problem loans totaling $28 million as of Dec. 31.
CEO Marla Shepard said bad auto loans and credit card debt made up $19 million of the total.
Calculation Changed
In response, Cal Coast changed the way it calculates possible losses, being more aggressive in classifying them. The institution is also doing more loan modifications, trying to help borrowers make payments.
The fifth and sixth largest credit unions locally ranked by total assets also recorded net losses for the past year. USE Credit Union reported losing $2.3 million compared to a net profit of $499,000 for the prior year. USA Federal Credit Union lost $4 million compared to losing $5.7 million in 2007.
Although many credit unions were bumping along, making earnings through the end of September, the fourth quarter caused hardship for many.
Joe Schroeder, chief executive at San Diego Metropolitan Credit Union, said the past quarter was the ugliest in its history, and caused a full year net loss of $2 million, or double what it lost in 2007.
"We went 72 years without recording any real estate (loan) losses, but that changed starting in August 2007," Schroeder said.
For Metropolitan, most problem loans came from home equity credit loans.
A typical scenario involves a borrower with a first mortgage from a larger bank who falls behind when the monthly payment increases after the interest rate readjusts.
Forced to pay larger amounts on the first mortgage, the borrower either delays payments or stops paying on secondary loans.
While the economy wreaked havoc with many lenders, some were able to sidestep problems.
The area's two largest institutions, San Diego County Credit Union and Mission Federal Credit Union, reported profits. San Diego County Credit Union, the largest in the region with $4.5 billion in assets, reported net profit of $45.3 million compared to $53.6 million in 2007. Mission Federal reported net income of $5.6 million compared to $3.8 million in 2007.
"About half of our members are in the educational field," said Mission Federal CFO Ron Aranjo. "We find them to be responsible and were not interested in anything exotic."
Despite the losses, the California Credit Union League reported most institutions continued making loans. Through the first three quarters, the state's 555 credit unions increased their loan portfolios 2.8 percent.
As the economy declined some CUs got more selective about lending.
Mission Federal's Aranjo said as conditions worsened, he tightened lending standards, and made loans primarily to A-rated and B-rated borrowers, charging much higher interest rates on borrowers with lower credit ratings.
At year end, the institution classified 1 percent of its loans as delinquent more than 60 days.