BIOTECH: COMPANIES SCRAMBLE FOR CASH AND SUITORS
With Signs of Life, the Biotech Sector Will Hang on in 2010
Monday, December 21, 2009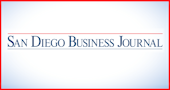 Innovation will thrive. Money will be tight. Mergers and acquisitions will continue and big pharmaceutical companies will be on the prowl. There are signs of life in the life sciences industry, but there won't be much growth, biotech insiders say.
"We hope the challenging times have leveled off," said Terri Somers, director of communications at Biocom, the trade association for 550 of San Diego's life sciences companies. "There are plenty of signs of hope."
Cash Is The Key
With the nation's economy from Wall Street to Main Street in the throes of convulsions, contractions and corrections, it's tough to forecast with confidence, said Marney Cox, the San Diego Association of Governments' chief economist.
"It will not be a worse year," said Cox, who tracks regional economic activity. "It will be a flat year."
Cash is key to the San Diego region's biotech hub, Cox said, because so many companies are small, independent outfits doing research and early development.
Whether or not cash will be available is the key question and the answer is uncertain.
"With real estate shut off to new investment, is biotech the next place investors will look? How much of that money will green technologies draw away?" Cox asked. "There's uncertainty in the health care industry in general because of the federal health care reform now."
Startups are finding that terms for venture capital are demanding, said Tom Murphy, a biotech executive recruiter with the Solomon-Page Group. To start, investors want to see that the company has its own money invested.
"They aren't getting favorable terms on valuation and if they do take the money they are giving their company away," Murphy said. "VC won't invest (for amounts) under $10 million, so they're all doing syndications."
Competitive Cooperation
"We have 50 research institutions here now, and five came in the past two years," said Duane Roth, CEO of Connect. "We're attracting and keeping very bright people."
San Diego institutes, including the Sanford Consortium for Regenerative Medicine, Scripps Research Institute, Salk Institute for Biological Studies and Burnham Institute for Medical Research, are pulling in multimillion-dollar chunks of the state stem cell research funding, and the county's researchers increased their grip on the coffers of the National Institutes of Health research funding by 44 percent in the last quarter of 2009, according to Connect, the San Diego-based organization that supports startup technology companies.
Roth said that San Diego's unusual spirit of collaboration embodied by competitive cooperation — "cooper-tition," in the jargon — is how the region will revive itself.
"That is our competitive advantage over other regions' biotech industries," Roth said.
The collaborations manifest in ways ranging from the cooperation between Fate Therapeutics and Scripps Research Institute developing ways to use small molecules to retrain and reroute cellular processes that speed the process up by a factor of 200, to the creation of Regulus Therapeutics Inc., a "satellite" company that's a joint venture between Isis Pharmaceuticals Inc. and Alnylam Pharmaceuticals Inc. Regulus is focused on developing therapies to guide and affect microRNA's action on genes.
In March, Gary and Mary West of the West Corp. fortune launched the West Wireless Institute, drawing its leadership that includes Qualcomm Inc.'s vice president of Health and Life Sciences and noted Scripps Health Chief Academic Officer Dr. Eric Topol to pursue innovations in using wireless technology to deliver better, smarter and more personal health care.
"We're seeing new companies spun out," said Biocom's Somers. "We've got scientists reaching across disciplines, like the geneticists from Scripps now getting into bio-agriculture."
The collaboration is, at least geographically, centered on the University of California and includes groups that sometimes compete for research funding.
"The top four institutes for stem cell research are collaborating — that's simply unheard of anywhere else," said Tom Murphy.
For the most part, local companies are hanging on. The 28 companies that had less than a year's capital at the beginning of the year are still here at the end, Somers said.
"Companies have the attitude that we made it through, we've come out leaner and smarter, now, what can we do?" she said.
Kelly Cunningham, an economist and senior fellow at National University System's Institute for Policy Research, agrees that the trend of mergers and acquisitions will continue.
"Our big thing in San Diego is we're very good at starting up — the research and new discoveries," Cunningham said. "Once the research shows promise, the big companies come in and buy them up."
While he is guardedly optimistic that the biotech industry will recover, Cox said that, for the next few years, the region will have to look to other industries for the blistering economic recovery.
"The last deep recession, when we lost the defense industry, it was emerging technology, especially biotech that got San Diego out of the doldrums and made us a dot on the map," Cox said. "We're going to have to look for a different white knight this time."
Marty Graham is a freelance writer for the Business Journal.