RETAIL: DISCOUNT CHAIN STORES
Better Times Ahead?
Monday, August 31, 2009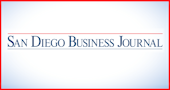 Judging by the anticipated attendance for the annual International Council of Shopping Centers Western Conference from Sept. 2-4 at the San Diego Convention Center — half what it was last year — retail is still in the pits.
A mid-August report by the U.S. Commerce Department showing that retail sales in July fell short of a predicted gain when sales for the "Cash for Clunkers" program was subtracted tends to bear that out.
But the "green shoots" the White House has been heralding may be sprouting, at least in San Diego, according to a real estate broker and an architect who say they're starting to see more interest in leasing.
Dave Hagglund, senior vice president at the San Diego offices of CB Richard Ellis, says he knows of deals pending on a "handful" of stores formerly occupied by bankrupt Mervyns, aside from the three that low-priced Kohl's Department Stores recently scooped up. But he didn't cite specifics.
There were 10 Mervyns in the county, and the trendy fashion chain Forever 21 went in with Kohl's to take over a fairly big chunk of the 175 stores shuttered in seven states, so a good guess is it's Forever 21.
Hagglund also says that Best Buy is in the process of signing two new leases. He wouldn't say where exactly, except that one is in North County near Interstate 15 and the other is on the I-15 corridor in central San Diego.
Expansion Slows
However, Best Buy, which typically occupies stores in the 35,000- to 40,000-square-foot range, is slowing down on expansion since it no longer has competition from Tweeters and Circuit City, he says. Both went belly-up. According to Best Buy's Web site, it has 10 stores in the county.
While there's an abundance of retail space available, the county is unique in the sense that high barriers to entry have tended to slow development. Retailers, particularly discounters that are faring well in the down economy, want to be in position to take advantage of a resurgence, Hagglund adds.
In the first half of 2009, the county's retail market had a vacancy rate of 5.6 percent and a million square feet went back on the market. In the first six months of 2008, the vacancy rate was 3.2 percent and 48,000 square feet was returned to the market, according to a report from the Retail Division of Grubb & Ellis/BRE Commercial real estate brokers.
"I think people are starting to loosen up and do deals," Hagglund said. "If they plan to open stores in 2011, they'll start planning in 2010. In San Diego it's been difficult for retailers to get into key areas, particularly compared to places like Phoenix or Las Vegas."
Ready To Rebound?
Jim Connelly, an architect and managing principal of Nadel Architects, who has Albertsons grocery stores as a client, said the company is "looking at renovating several existing sites." But he said he wasn't at liberty to mention which ones.
He also said he knew of two Circuit City locations that are soon to be reoccupied, and he was aware that Sprouts, an Arizona-based grocery chain, "is looking at sites all over Southern California." But again he didn't give specifics.
He agrees with Hagglund that retailers are posturing for a turnaround.
"It's like the ninth-grade dance floor," he said. "You just need a couple to get out there and start dancing, and I think when that happens, things will start to move quickly."
Both plan to attend the ICSC conference, which is expected to attract 3,000 visitors, down from 6,000 last year.
ICSC is a global trade association for the shopping center industry. It counts 60,000 members in the U.S., Canada and 80 other countries. The program for the San Diego convention focuses on deal making opportunities with exhibitors of nearly all retail stripes.
A keynote presentation includes a panel of professionals representing shopping center ownership, management, development, financing, leasing and marketing that will discuss the current state of the industry and where it's expected to go.
"The convention is down from years past," Hagglund said. "Before, Target and Wal-Mart would bring a couple hundred people each, including deal makers, their legal departments and property managers and pretty much the majority of their real estate staff.
"It was more of a perk to come here, but now companies have cut back, and those that don't absolutely have to go don't. That doesn't mean the convention will be less efficient. Those who need to be there will be there."