Problem Loans Growing at San Diego National Bank
Monday, August 17, 2009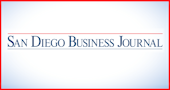 San Diego National Bank, one of the region's largest local banks with $3.4 billion in assets, reported a net loss of $40.6 million for the first half of the year, causing a severe hit to its capital base.
Regulators have classified the bank as undercapitalized.
According to the most recent call report filed with the Federal Deposit Insurance Corp., SDNB had to increase its loan loss provisions by $83 million for the first half of the year because of its deteriorating loan portfolio that includes about $123 million in problem assets as of June 30. That means 3.62 percent of the bank's total assets are problematic.
In a comment contained in the FDIC report, SDNB said, "FBOP Corp., the holding company parent of San Diego National Bank, is making good progress on a transaction which will result in San Diego National Bank exceeding regulatory capital standards by Sept. 30. San Diego National Bank maintains strong liquidity and solid core earnings."
In an e-mail, CEO Robert Horsman repeated the same statement, and gave no information about what the bank plans to do to replenish its deficient capital position.
"SDNB's holding company is keeping the regulators updated regarding progress on the capital raising efforts," Horsman said in an e-mail.
David Ely, a finance professor at San Diego State University, said while the bank's financial statement is vague, regulators are clearly putting the heat on to increase its capital.
"I think the regulators are pressuring them to take action by the end of this quarter," Ely said. "With their ratios, and losses, and their capital position, they have the regulators' attention, and they're probably asking for a specific plan on how they intend to resolve these problems."
Murray Galinson, chairman of SDNB, said the bank is in constant contact with regulators, and he knew of no formal sanction against the bank.
Regarding the bank's comment in the second quarter report, Galinson said, "I know (FBOP) is working on it, but I know nothing of the details."
He declined to say whether the bank was being shopped to potential buyers, a rumor that has been circulating for months in local banking circles.
Consent Order
California National Bank in Los Angeles, also a subsidiary of Chicago-based FBOP Corp. with $6 billion in assets, was hit with a consent order from the Office of the Comptroller of the Currency in May to increase capital ratios after the bank's losses eroded its capital base to levels that classified it as undercapitalized.
Now SDNB is in the same boat. As of June 30, the bank's Tier 1 leverage ratio was 1.69 percent, below the 4 percent standard to be classified as adequately capitalized.
SDNB's total risk-based capital ratio was 3.35 percent, below the 8 percent minimum to be classified as adequately capitalized.
In the second quarter, SDNB reported $115 million in new nonaccrual loans, or those not paying either interest or principal, and are past due more than 90 days.
It also reported $29.2 million in charged-off loans, basically bad loans the bank is writing off.
The bank also reported $217 million in loans that are past due more than 30 days but less than 90 days.
The largest concentration in this category is $127 million in construction and land development loans.
SDNB has been a local leader in real estate lending for many years, and as a result, has been wounded by the sour economy, said several local bankers.
"They've done a lot of good things for this community, and it's sad to see what's happening to them as a result of this economic downturn," said Mike Perry, chief executive at San Diego Trust Bank.